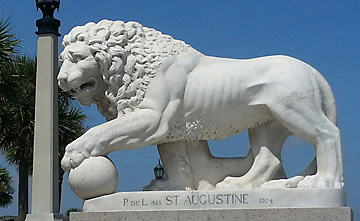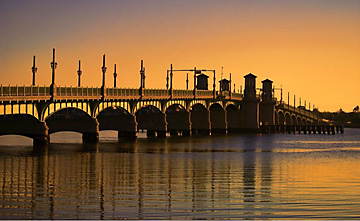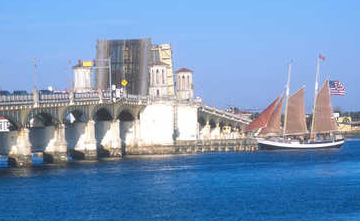 The Bridge of Lions spans Matanzas Bay, which is part of the Intracoastal Waterway, connecting the Old City of St. Augustine with Anastasia Island, and is designated SR A1A. It is a double-leaf "bascule" or drawbridge, providing clearance for boat traffic, with a span of 1,574-feet. The bridge is named for the stately pair of stone lions at the base of the bridge on the west end.
The Carrara marble Medici lion statues, named "Firm" and "Faithful," were created as copies of statues found in the Loggia die Lanzi in Florence, Italy. They were a gift from Dr. Andrew Anderson (1839-1924), a friend of Henry Flagler, who unfortunately did not live to see them installed, as the bridge construction took place from 1925-1927. The lion statues were commissioned by Dr. Anderson to the Romanelli Studios in Florence, Italy, which a decade earlier produced two smaller lions which he displayed on the front steps of his home, Markland House at 102 King Street, now part of Flagler College.
The Bridge of Lions replaced a ferry boat and a wooden toll bridge built in 1895 which accommodated a trolley and had a movable opening for marine traffic. The bridge had been renovated in 1904, but by 1920 a bond issue was organized for a new bridge. The construction came during the height of the Florida land boom of the 1920s, which its extravagance reflected. It was designed to transport cars, but also to be a work of art and a landmark for the city.
In 1999 the Florida DOT declared the Bridge of Lions to be "structurally deficient and functionally obsolete." Heated debates grew on what to do with the structure, resulting with a restoration plan which cost about $80 million, required the construction of a temporary bridge, and took five years to complete. The "new" bridge was reconstructed to look like the original. The marble lions, in storage and refurbishment for 6 years during the bridge renovation, were returned to their original location in 2011. The Bridge of Lions allows two lanes of vehicular traffic, with a sidewalk on each side. The Bridge is listed on the National Register of Historic Places.