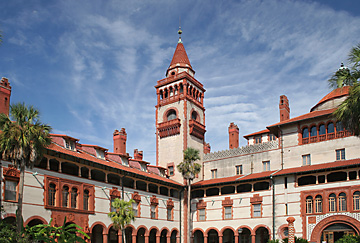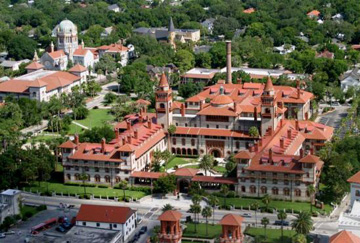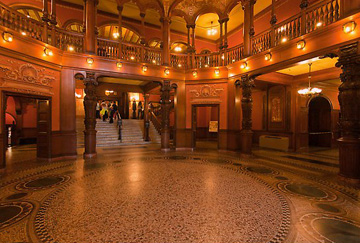 Flagler College is a small, private, 4-year residential college offering nationally renowned and accredited programs in selected liberal, business, and pre-professional studies. The College is coeducational, with an enrollment of approximately 2,500 students.
Founded in 1968, the College was established as a memorial to Henry M. Flagler, industrialist, oil magnate, land developer, and railroad pioneer. Flagler was a co-founder of Standard Oil and the single most pivotal figure in Florida's development. The centerpiece of the campus is the former Hotel Ponce de Leon, the first of a series of grand resorts built in the late 1800s by Mr. Flagler, and a National Historic Landmark. The majestic landmark, with its stunning Spanish architecture, forms an intricate complex of buildings representing a melange of historical styles. The distinctive architecture is complemented by beautiful grounds and an impressive interior, which includes ornate hand-carved wood, panels of imported marble, elaborate murals, and Tiffany stained glass windows. The campus consists of several other historic structures, a library, a student center, an auditorium, a gymnasium, an art museum, a laboratory, a radio station and residence halls.
The Flagler College campus is located in the heart of the nation's oldest city. The ideal climate, historic landmarks, numerous attractions, magnificent beaches, and Old World ambiance of St. Augustine provide an inviting campus environment for an institution of higher learning. The college is pledged to the preservation and use of its historic and architecturally unique campus structures. Tours of its historic buildings are offered to the public. Lectures, special events, art exhibits, and theatre productions are also presented for the community and visitors to enjoy.
The college is located at 74 King Street, St. Augustine, FL.