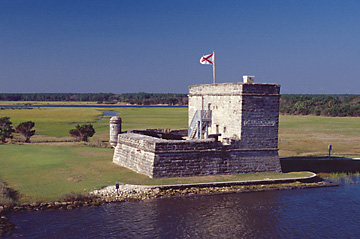 As the early Spanish settlers in St. Augustine attempted to protect their city from the British colonists in Georgia and Carolina, they recognized the vulnerability of the Matanzas River Inlet from the south. An early wooden watchtower was constructed in 1569 on an island at the southern end of Matanzas Inlet, just 4 years after the Spanish arrived, and at least twice protected the settlement from attacks by the British and French pirates. An unsuccessful attack of the city by the British prompted the Spanish Governor to order a stronger stone tower to guard the southern approach, about 15 miles south of the city. Work began on Fort Matanzas in 1740, as Fort Mose was built to the north of the city. Fort Matanzas' marsh location necessitated long piles to be driven into the wet ground to support the tall stone walls. Locally quarried coquina stone was the only available masonry material, like that used for Castillo de San Marcos. British and Indian allies repeatedly attempted to halt the construction, unsuccessfully. Fort Matanzas was completed in only 2 years, measuring 50 feet on each side with a 30-foot tower. It mounted five cannons. Its only battle took place when it was barely completed, when Georgia colonial governor James Oglethorpe and the British arrived off Matanzas Inlet with 12 ships, in 1742. Small boats were sent into the inlet as scouts, and they were driven away from a single cannon shot from the fort - the only hostile shot ever fired from Fort Matanzas!
Today, the restored fort is the centerpiece of a scenic national park, with entrance located about 15 miles south of the historic Old City. Tours of this National Monument are free and include an hourly ferry ride across the Intracoastal to the fort, which is on Rattlesnake Island. Visitors can explore the fort, view exhibits, hear talks by the ranger, boat captain and re-enactors, watch the 8-minute video, walk the 1/2 mile boardwalk nature trail from the Visitor Center, and enjoy the variety of  ecosystems and natural beauty around the dock and the fort. Special events include cannon and musket firing demonstrations,  torchlight tours, nature programs and bird walks.
Fort Matanzas National Monument is open to the public from 9:00am to 5:3pm every day of the year except Thanksgiving Day and Christmas Day. Boarding Passes are required to ride the ferry, which carries 36 passengers on a first-come first-serve basis. The free passes are issued at the visitor center, and the ferry departs on the half-hour. Note, the fort and ferry are closed during thunderstorms. Fort Matanzas National Monument is located about 15 miles south of the historic district of St. Augustine, Florida, on Anastasia Island. The physical address is 8635 A1A South, St. Augustine, FL 32080.