Here are often-requested recipes for some of our guests' favorite foods at St. Francis Inn, including breakfast selections, popular cookies, and some of our evening dessert offerings.
St. Francis Inn Chocolate Snickerdoodle Cookies
Many guests of St. Francis Inn consider the Chocolate Snickerdoodles to be their favorite Inn cookies. Chocolate added to the classic cinnamon butter cookie creates a true comfort food!
INGREDIENTS
1-3/4 cups all-purpose flour
1 teaspoon baking soda
1/2 teaspoon baking powder
pinch of salt
1 stick butter (softened)
1-1/2 cups sugar
2 ounces unsweetened chocolate (melted & cooled)
1 egg
1 teaspoon ground cinnamon
DIRECTIONS
Preheat oven to 400°F.
Combine flour, baking soda, baking powder & salt. Beat butter, sugar and egg until fluffy, blend in melted chocolate, add dry ingredients. Shape into 1 inch balls. Roll in sugar and cinnamon. Place on parchment lined cookie sheet, bake 12-14 minutes, until cookies are puffed and cracked.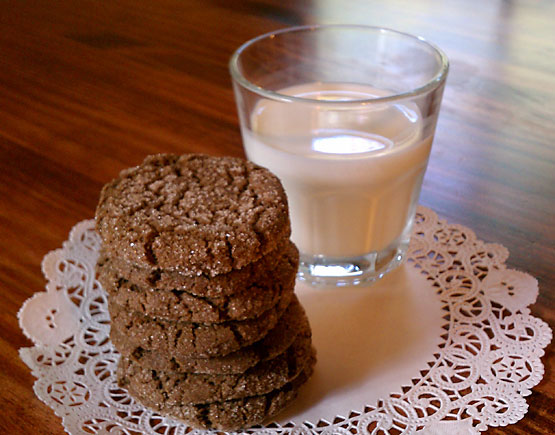 Poached Pears with Spiced Wine Sauce
Poached Pears with Vanilla Ice Cream, Pomegranate Seeds and Spiced Wine Sauce.
INGREDIENTS
1-1/2 cups red wine
1 lemon
1 navel orange, quartered
3/4 cup sugar
1/2 vanilla bean, split, or 1/4 teaspoon vanilla extract
1 cinnamon stick
5 cloves
4 small ripe pears (any variety), peeled
vanilla ice cream (optional)
DIRECTIONS
In a small saucepan, off the heat, combine the wine, the juice from the lemon and orange, 1 of the squeezed orange quarters, the sugar, vanilla, cinnamon stick, and cloves. Add the pears and bring to a boil. Reduce heat and simmer, uncovered, turning the pears occasionally, until they're easily pierced with the tip of a knife, about 25 minutes.
Using a slotted spoon, transfer the pears to individual plates. Remove and discard the orange quarter and spices. Return the liquid to a simmer and cook until syrupy and reduced by two-thirds, about 15 minutes, depending on size of pan. Spoon the sauce over the pears and ice cream.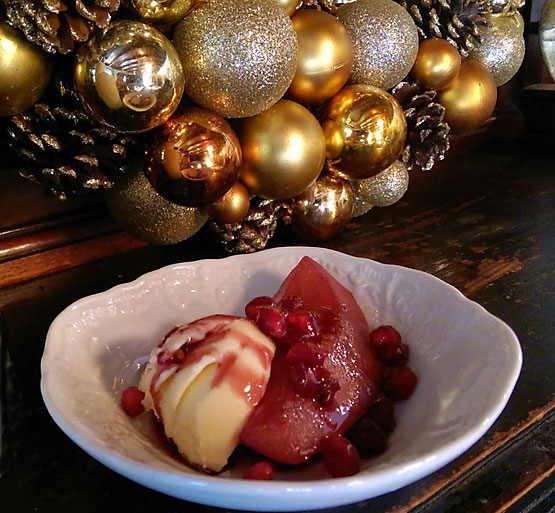 Cinnamon Pecan French Toast Bake
(from St. Francis Inn's Weekend Brunch Menu)
Our thanks to Pillsbury, where this recipe started. We tweaked it to create a guest favorite.
INGREDIENTS
1/4 cup butter (melted)
2 cans refrigerated cinnamon rolls
6 eggs
1/2 cup heavy cream
2 tsp. ground cinnamon
2 tsp vanilla
1 cup chopped pecans
1 cup maple syrup
DIRECTIONS
Heat oven to 375°F. Pour melted butter into an ungreased 13x9 inch glass baking dish.
Separate cans of dough into 16 rolls, set icing aside. Cut each roll into 4-6 pieces. Place pieces into baking dish. In a medium bowl, combine eggs, cream, cinnamon and vanilla. Mix well. Pour over roll pieces. Sprinkle with pecan pieces and drizzle with maple syrup.
Bake 20 to 28 minutes or until golden brown. Cool 10-15 minutes. Drizzle icing over top. Make this recipe extra special by adding chopped apples or blueberries...YUM!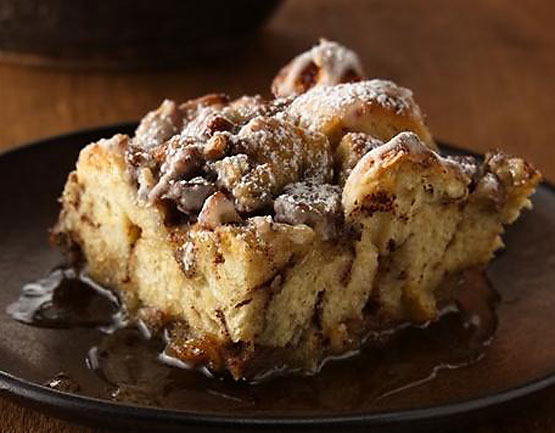 Apple Cranberry Cobbler
INGREDIENTS
1 stick of butter
1 cup flour
1 cup white sugar
1 tsp vanilla
2 tsp baking powder
1/2 cup milk
4 cups chopped apples
1 cup fresh cranberries
1/4 cup brown sugar
1 tbsp orange juice
1 tsp cinnamon
1/4 cup oats
DIRECTIONS
Melt butter in a 13x9 pan at 350 degrees F in the oven. Mix flour, white sugar, vanilla, baking powder and milk until blended. Set aside.
Combine apples, cranberries, brown sugar, orange juice, cinnamon and oats. Drizzle flour mix over melted butter in pan. Top with fruit mixture. Bake for 30-45 minutes, until golden brown and bubbly.
St. Francis Inn's Spinach, Ham, and Swiss Quiche
INGREDIENTS
3 cups packed baby spinach, chopped
6 large eggs, lightly beaten
1 1/2 cups half and half cream
1/2 teaspoon salt
1/2 teaspoon dried mustard
1 9-inch frozen pie crust or puff pastry
1/4 pound sliced ham, chopped
1 1/2 cups shredded Swiss cheese
DIRECTIONS
Line a rimmed baking sheet with foil, place it in oven and preheat to 375°F. Mist a medium skillet with cooking spray and warm it over medium heat. Cook spinach, stirring often, until wilted (about two minutes). Remove spinach to a paper towel-lined plate and pat dry. Combine eggs, half and half, salt and mustard in a large bowl and whisk until well mixed.
Arrange spinach on bottom of pie crust. Scatter ham over spinach. Sprinkle cheese over ham. Pour egg mixture into shell. Place quiche on a baking sheet and bake until filling is set and crust is golden, about 40 minutes. Let stand 10 minutes, slice into wedges. Serve hot.