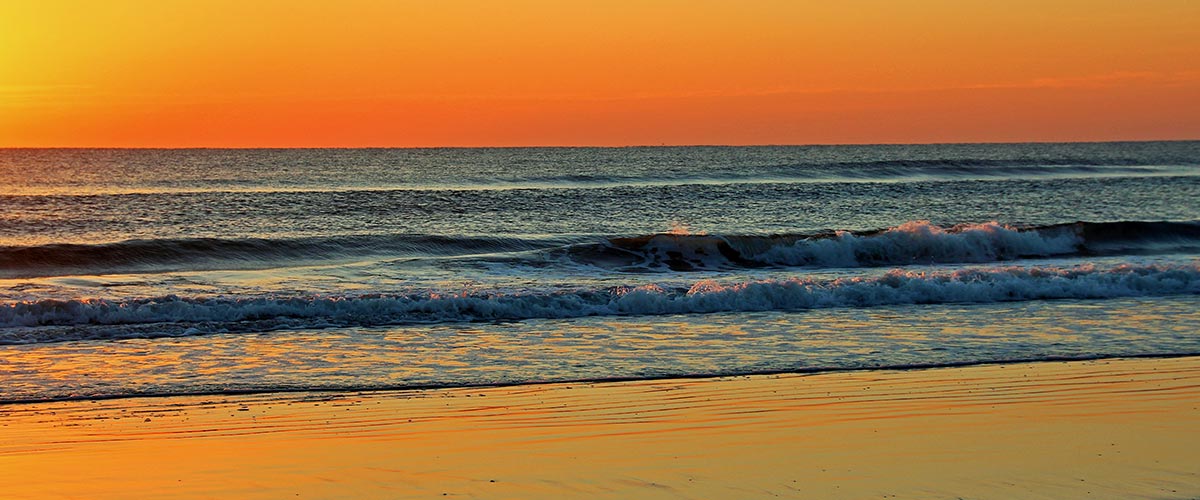 Beach Day in St Augustine, Florida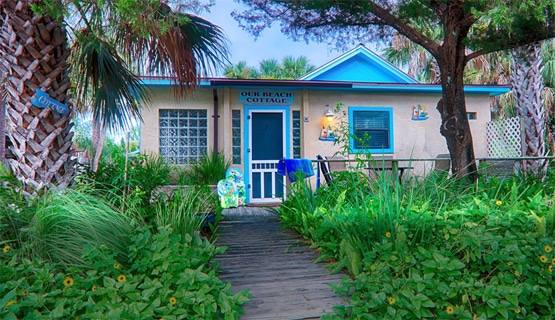 Our Beach Cottage is set up to specially accommodate our Inn guests for a day at the beach. There are designated parking places, beach chairs, cold water, refrigerator, and an outdoor shower. To ensure your comfort, you also have access to the day-guests' private bathroom, complete with shower, towels, soap, and shampoo. What a great way to relax in St. Augustine! Freshen up before you leave, and head to one of the many area restaurants to top off your day!
Our "Afternoon at the Beach" guest amenity is the perfect combination of things for you to enjoy and to make the very best of your time in St. Augustine. Not only will you enjoy our delightful bed and breakfast pampering at the Inn, but you'll have free access to an extraordinary outing at the beautiful and coveted St. Augustine Beach! This is the perfect way for you to experience one of Florida's top beaches, and it's all located just 6 short miles from the St. Francis Inn.
Your outing is headquartered at one of our sister properties, Our Beach Cottage. There, you will find ample and free off-street parking, along with facilities for the exclusive use of our Inn guests (the Cottage itself has its own facilities for the guests staying there). There's a private bathroom with shower, which has complimentary towels, soap, shampoo for you to use, along with beach chairs, an outdoor shower to get the sand off easily, and plenty of cold water to keep you hydrated. There's a refrigerator for you to store your picnic, too, so you don't even have to leave your spot on the beach to enjoy it all day! And all this is just steps from the Atlantic Ocean.
St. Augustine Beach is one of the world's most beautiful beaches, offering 14 miles of wide sand, gentle waves, and dunes of sea oats floating in the breeze. Walk from Our Cottage over a sandy path through the dunes to this ocean playground, and enjoy your day in the sun. The beach is the perfect spot to curl up with a good novel, daydream as boats cruise the horizon, or soak up the sun while boogey-boarding or surf fishing… you set the pace! You might even be lucky enough to glimpse some dolphins swimming playfully offshore.
Discover all the amenities of an oceanside holiday during your day at St. Augustine Beach. Just a mile away from our Cottage is one of northeast Florida's most popular public fishing piers, with volleyball courts at the neighboring park and a weekly farmers market. Also nearby are Fiesta Falls miniature golf, the St. Augustine Alligator Farm, and the 165 foot tall candy-striped St. Augustine Lighthouse. Moreover, the area is packed with interesting shops, restaurants and cafes, boutiques, surf shops, moped and kayak rentals, and special events. Your day at the beach can extend in so many fun and exciting ways.
Having access to this incredible place is the perfect way to round out your visit to St. Augustine. Now, you don't have to choose between staying in the Old City or playing on the beach. You can have it all! Make your arrangements with the innkeeper at St. Francis Inn, who will provide you with a parking permit, a directional map and the garage access code.
Please note: This package for Inn guests does not include an overnight stay at Our Beach Cottage. The "day guests" equipment and amenities are all located in a garage at Our Cottage, which Inn guests can access. Our Cottage is rented separately on a nightly basis, just as Inn rooms are rented. You may love your day , that you'll want to spend a few nights at Our Beach Cottage on your next visit to St Augustine!