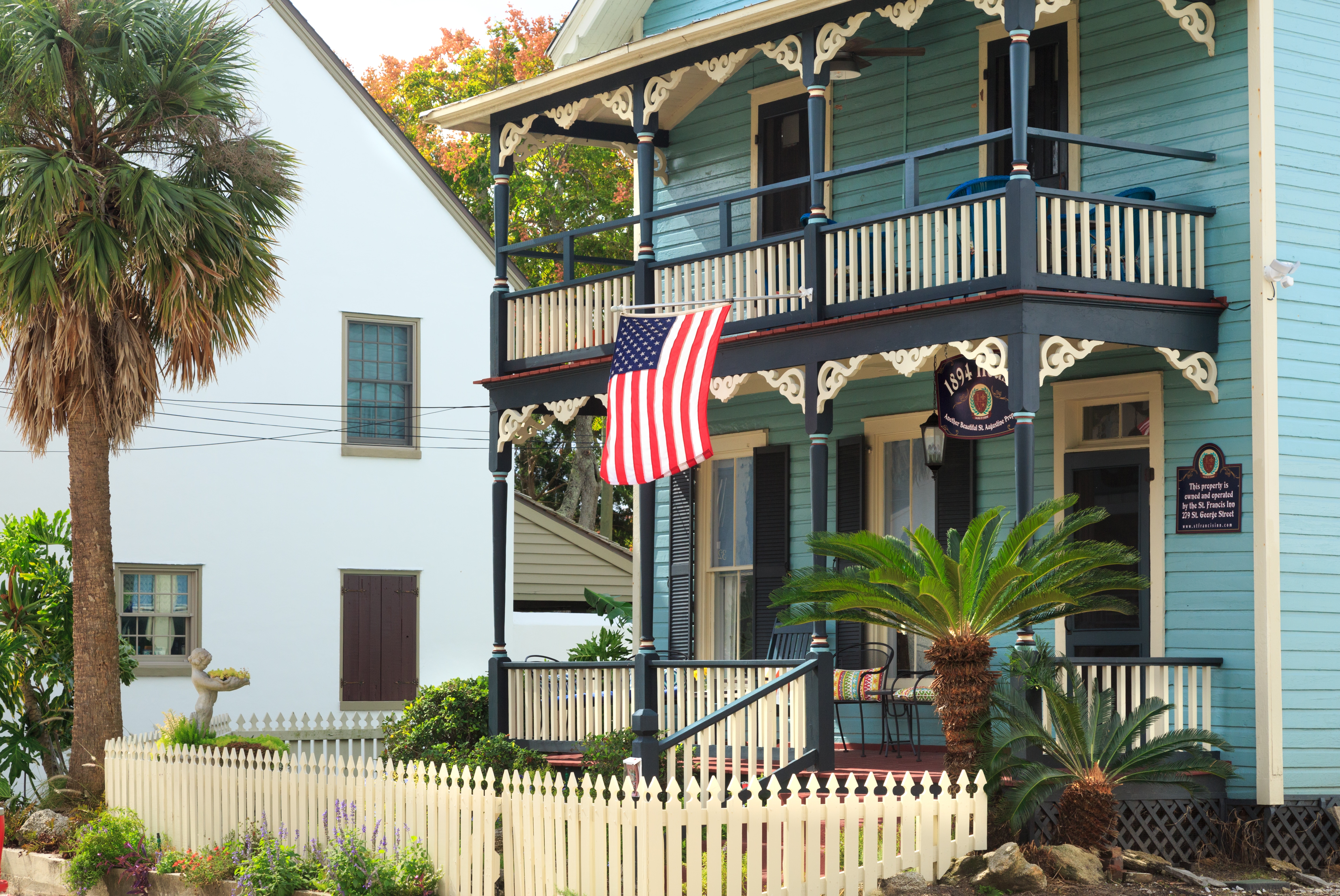 St. Francis Inn Policies & Why Book Direct
In order to guarantee your reservation, we will process a $100 charge/deposit to your credit or debit card at the time your reservation is made. This deposit will be applied to the cost of your stay.
If you cancel for any reason prior to 7 days before your arrival date (14 days for holidays and special events), we will refund 75% of your deposit.
If you cancel for any reason less than 7 days before your arrival date, you will forfeit your full deposit.
No Shows – guests who do not cancel and do not show up for any reason on their arrival date – will be charged one night's lodging and will not be issued a gift certificate.
We offer many ways for you to make a reservation inquiry:
Call us toll-free at 1-800-824-6062 (USA & Canada)
Call us at 1-904-295-1475 (International)
Fax us at 1-904-810-5525
e-mail us at: info@stfrancisinn.com
You can also check the availability for any of our Rooms or Suites online, and even book your reservation online:
Check Availability / Book Direct Online
NOTE: Our Rates are based on double occupancy. Please add $30 per extra person per night for all other Inn accommodations. Also, the rates do not include state or local taxes. Weekly and monthly rates are also available; please inquire.
Every Room and Suite at St. Francis Inn is unique – varying in size, location, decor, configuration, and appointments. Our Rates reflect these distinctions and vary accordingly, but every Inn accommodation includes…
private bath
central heat & air-conditioning
color cable TV
clock radios with MP3/iPod connection
queen- or king-sized beds
queen-sized sleeper sofa in suites
fresh flowers
sherry decanter and glasses
unique character and individual decor
special touches and romantic atmosphere
plush monogrammed robes to wear during your stay
irons and ironing boards
soap and conditioning shampoo
hair dryer
laundry bag
daily housekeeping
…and all rooms and suites are smoke-free.
Several also have…
fireplace, electric or gas
spacious whirlpool tub
old-style clawfoot bathtub
private balcony, porch or deck
A few…
have coffee makers
have a refrigerator and/or microwave
have a kitchen or access to a private shared kitchen
allow a small pet, under specific conditions
At the front desk, we keep shower caps, sewing kits, and various toiletries in case guests forget to pack some.
Our Rates also include a buffet breakfast, use of Inn bicycles, admission to the St. Augustine Light House and Museum and 50% discounted admission to the Oldest House, evening social hour, and other perks, activities and benefits. See our 
Free Guest Amenities
 page for details.
Check-in after 3:00 pm
Check-out by 12:00 pm
Smoking is not permitted in any building. There are numerous protected and attractive outside areas where smoking is allowed.
We accept small pets on a limited basis and with certain guidelines and restrictions. For complete information, please refer to Our Pet Policy.
Concerned about allergies?
Not to worry! Most of our rooms are kept "pet free;" pet guests are only allowed in a few select Inn rooms. All our guest rooms and common rooms are non-smoking.
Our Smartest Guests Book Direct!
You BOOK DIRECT when you use one of two methods to reserve your room:


Book Direct by Phone: Call St. Francis Inn and speak to our on-site innkeeper at 800-824-6062 or 904-295-1475
Book Direct Online: Book Direct Online: From our website Link to Online Booking
Here are the facts:
Book Direct with St. Francis Inn and you will:
Earn our Loyalty Reward* – A $25 Gift Card for legendary O.C. White's Seafood & Spirits Restaurant, just a few short blocks from the Inn
Get our best rates and our best offers
Be able to choose from all our available accommodations
Easily select one of our many specials, packages or add-ons to your stay
Have more flexibility and a better booking experience
Have direct access to our Innkeepers, who can answer all your Inn and local area questions
Have direct access to our Innkeepers who can assist you with any special requirements
Learn about and access our offers during non-peak travel times
Get personalized assistance from those who know the Inn and how your needs are best accommodated.
 
Those who DON'T Book Direct, and work through a 'middle-man' online travel agency like Expedia or Priceline:
Are paying hidden fees
Don't have access to all our rooms and suites
Won't learn about the Inn's special offers and savings
Won't be able to add packages or add-ons to their stay when booking
Have less flexibility with booking dates
Don't get the Inn's personal touch
Just call 800-824-6062 or 904-295-1475 or 
click here
 for direct booking online. We look forward to helping you plan your visit.
* The Loyalty Reward gift card offer is for first-time guests, for stays of two nights or more. Not available with any other discounts. Only good for reservations made directly with St. Francis Inn, either by phone or online from our website. Mention "Book Direct" when booking to get this reward. Based on double occupancy.
Best practices and procedures to prevent the spread of COVID-19:
In accordance with the latest CDC recommendations, we no longer require fully immunized guests and staff to wear face masks indoors or outdoors. We do request that those who have not been immunized wear a face mask in any indoor community space.  We are happy to provide masks to guests who need them at no cost.
Monitoring the Health of our Staff:
If any of our employees is feeling or showing any symptoms such as shortness of breath or dry cough they will be required to stay home until they do not have any symptoms for 3 days.
We have added signage throughout the properties to remind everyone about social distancing protocols and the need to frequently wash their hands and use sanitizer.
Sanitizing and Cleaning of General Areas:
In public spaces, we require our staff to thoroughly treat high-touch surface areas with hospital-grade disinfectants. This cleaning is done regularly.
Check-in procedure:
The St Francis Inn has added a plexiglass shield at the front desk to provide an extra level of precaution for guests. At Casa de Sueños the check-in process will allow for a 6 foot distance between guests and innkeepers.
There will be a limit of one guest at the front desk with one innkeeper behind the desk. The phones, pens, guest credit cards and room keys will be wiped down and sanitized before and after each guest or each time a staff member comes in contact with these items. Our Select Registry Kiosk will be sanitized before and after each use.
Paper materials that are distributed at check-in such as maps and menus will be recycled after each guest departs. Our staff will remove all of these items from the guest rooms after check-out so that we can ensure all of the materials handed to guests at check in are new.
Guest Room/Amenities Sanitizing Procedures:
In guest rooms we are cleaning all surfaces thoroughly with hospital-grade disinfectants. We also place disinfecting wipes in each room for guests' personal use.
We have removed the in-room phones from the guest rooms. We feel this should not be an issue since most travelers today will have their personal cell phones with them while staying with us.
At both properties we have removed the cream sherry from the decanters. The decanters will be sanitized after each check-out and replaced back in the room. If a guest would like cream sherry during their stay with us they may ask an innkeeper to fill the decanter for them.
Food and Beverage Experience:
Guests may enjoy Breakfast, Social Hour, and Dessert in several seating areas throughout the properties, or they are always welcome to take their food back to their rooms.
After each guest eats our staff will wipe down and sanitize the table and chairs to prepare for the next guest.
Desserts will also be served in individual boxes with the guest's room name on the box. Our guests will be able to pick up these items between 5-8pm nightly.
We take your privacy very seriously and this privacy statement is here to help you understand what we may do with any information you give us about you. This privacy statement only relates to our website and does not extend to your use of the Internet outside of our website or to any websites that are linked to our website. This Privacy Policy is not applicable to any other websites that you may be able to access from our website, each of which may have data collection and use practices and policies that differ materially from this Privacy Policy. This policy is an agreement that is legally binding. You may view and use the St. Francis Inn website without disclosing any personal information. By using our website, you consent to the collection and use of information by us as specified below. This Policy demonstrates our commitment to the protection of your privacy.
Who we are
Our website address is: https://stfrancisinn.com
The St Francis Inn Bed and Breakfast is owned by The St. Francis Corp.
Located at 279 St George St, St Augustine, FL 32084 USA.
Telephone toll-free 800-824-6062 (USA & Canada) or (904) 824-6068 (International).
Our commitment is to
never sell or share your information with unauthorized outside parties.
never use your information to market our lodging to you for future stays without requiring your "opt in" and permitting your "opt out."
only collect the minimum of information as is customarily necessary to provide lodging.
only share information about you when (a) required by law or (b) required by situations that demand immediate action that are to your clear benefit (i.e., "emergencies").
What personal data we collect and why we collect it
Comments
When visitors leave comments to our News Blog posts on the website we collect the data shown in the comments form; the comments may be made public on our News Blog. Visitor reviews about St. Francis Inn via TripAdvisor, Facebook, Google+, and others, may also appear on our website, and we do not control the privacy policy of these third parties.
Gift Certificate Contact form
These details are only known to us if you complete a contact form. We collect information if you order a Gift Certificate on our website.
News Blog or Newsletter Subscription
We collect information (eg. your email address) if you sign up for our News Blog or Newsletter subscription. The News Blog subscription service is provided by WordPress (a 3rd party). The Newsletter Subscription is provided by iContact (a 3rd party). You can opt-in or opt-out anytime.
Cookies
Anonymous statistics about visits to the website and to individual website pages are tracked for the purposes of better understanding our clientele and continually improving service. This tracking of statistics may involve the use of "cookie" technology and IP addresses. We use Google Analytics for our statistics. Google and other third party vendors use cookies to serve ads based on a user's prior visits to a website.
Google Analytics
Analytics cookies help us understand how users engage with our website. An example is counting the number of different people coming to our website or using a particular feature, rather than the total number of times the site or feature is used. Without this cookie, if you visited the website once each week for three weeks we would count you as three separate users. We would find it difficult to analyze how well our website was performing and improve it without these cookies. Analytics may collect the type of web browser or operating system, IP address, viewed pages, time and duration of site visits, crash logs, and other information relating to site usage.
Your Web Browser (Chrome, Safari, Firefox, etc.)
Most web browsers are initially set up to accept cookies. You can reset your web browser to refuse all cookies or to indicate when a cookie is being sent. Please note, however, that certain features of the site might not function if you delete or disable cookies.
Social Sharing
We allow you to share content directly on the social networking/sharing sites like Facebook, Twitter or Google+, and we do not control the privacy policy of these third parties.
Embedded content from other websites
Articles on this site may include embedded content (e.g. videos from YouTube). Embedded content from other websites behaves in the exact same way as if the visitor has visited the other website. These websites may collect data about you, use cookies, embed additional third-party tracking, and monitor your interaction with that embedded content, including tracking your interaction with the embedded content if you have an account and are logged in to that website.
Legal disclosure
This Privacy Policy applies only to information collected through the website and not to information collected offline. The St. Francis Corp. cooperates with government and law enforcement officials to enforce and comply with the law. We may therefore disclose personal information, usage data, message data, and any other information about you, if we deem that it is reasonably necessary to: (a) satisfy any applicable law, regulation, legal process (such as a subpoena or court order), or enforceable governmental request; (b) enforce the Terms of Use, including investigation of potential violations thereof; (c) detect, prevent, or otherwise address fraud, security or technical issues; or (d) protect against harm to the rights, property or safety of The St. Francis Corp., its users or the public, as required or permitted by law.
Security
The St. Francis Corp. will use necessary measures to protect the security of data. However, it is impossible for The St. Francis Corp. to completely guarantee that your data will be immune from malicious attack or compromise; as such, you should understand that your transmission of personal data is always at your own risk.
Notification of Privacy Policy Changes
We reserve the right to change the Privacy Policy at any time. Your continued use of the website, including use after the posting of any changes to these terms, will be deemed acceptance by you of the Privacy Policy.
The St. Francis Corp. will not be liable for any incidental, indirect, consequential or punitive damages or for loss of profit or opportunity, loss of use or other financial loss arising out of or relating to this Privacy Policy.
If you have any questions about this policy, please contact us.
Respectfully,
The St. Francis Corp.
Date of Last Revision: August 15, 2018
Pet-Friendly Lodging in St Augustine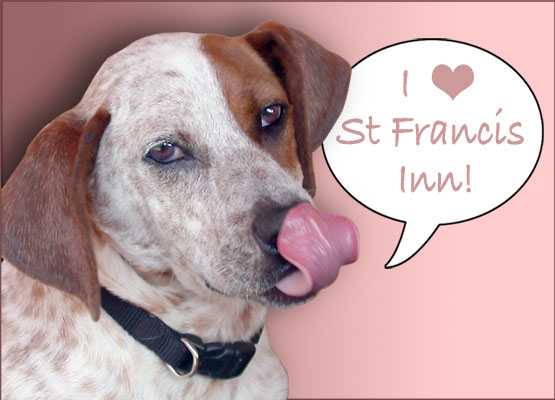 Concerned about allergies?
Not to worry! Most of our rooms are kept "pet free;" pet guests are only allowed in a few select Inn rooms and not in common rooms. Also, all our guest rooms and common rooms are non-smoking.
Are you looking for pet friendly lodging in St. Augustine?  It's fun to travel with your beloved pets, and we understand that!  That's why we're pleased to offer some limited pet friendly lodging in the historic center of St. Augustine.
The St Francis Inn accepts small well-mannered pets on a limited basis in certain rooms/suites by advance reservations only. You must meet the following conditions for our pet friendly lodging
When reservation is made, guest must disclose their pet will also be visiting.
At check-in, guests with a pet are required to sign our "Guest Pet Responsibility" agreement, which guarantees and authorizes credit card payment for any damage caused by their pet.
We charge a nightly pet fee of $25. This fee helps to cover the additional time and effort needed to clean the guest accommodation after a pet visit.
A "small pet" is a cat or dog which is easily held/carried by the guest, a maximum of 45 lbs.
Pets may not be allowed during certain holidays, weekends, or special event periods; please check ahead for availability.
Pets must be under the owner's control and should not disturb other guests (barking, non-friendly manner, etc.).
Since pets are not allowed in our "common areas" (such as the lobby, sitting room, dining room), only certain select rooms with direct outdoor access are designated to accommodate guests with small pets.
Daily housekeeping may be interrupted if a pet is in the room alone and not crated.
"I admit it. I fall in love so-ooo-oo easily! It is so romantic here and I just love everyone I meet. Oh yeah, when I grow up, I'm going to become an innkeeper. What a life... all those nice people to greet, dogs and cats to meet, wow!"
"I had just a wonderful stay at St Francis Inn. One of my favorite pasttimes is having a lazy day on my blanket, sipping a kitty colada... I also love to snooze by the courtyard fountain on my mom's lap, watching other guests come and go. I'll be back!"