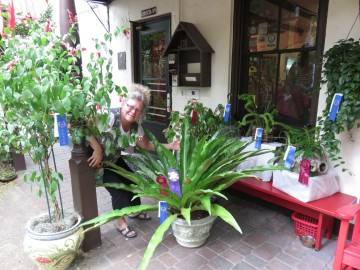 Last week our very talented "Gardeness" Jill Ziebell entered several of the St Francis Inn's plants in the 2015 St Johns County Home and Garden Show-Horticultural Exhibition. The results… several BIG WINNERS!! Our beautiful plants were entered in the Professional Division.
The plants that were in this year's show all had to be cared for and maintained for at least 6 months prior to being able to be entered. These plants have all been in our garden for the guest's enjoyment. Jill is always on the lookout for unique and interesting plants that the guests will enjoy and talk about.  She does a great job of labeling the plants in the gardens so that the guests know what type of plants they are enjoying. Several of our guests write d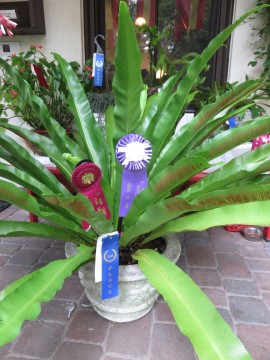 own this information to re-create their own, "St Francis garden oasis" at their own home.
Here are our results from this year's show:
BEST IN SHOW:  Birds Nest Fern > Specimen plant, 4'wide, slow growing,
possible age 15-20 years old
BEST IN SELECTION: Pitcher Plant
1st Place: Shrimp Plant, Tassel Fern, Red Lipstick Plant, Rhipsalis
2nd Place: Begonia

We would like to extend a Big Congratulation to Jill, Lynn and Maria for the time and the care they give to our beautiful gardens.  And congratulations to the wonderful plants!  Good Job everyone!