We love catering to our guests and one of the questions you are bound to hear when you make your reservation is, "Do you have any dietary restrictions or food allergies of which we should be aware?" This is because we want to be able to provide each guest with fresh and healthy food that they can eat, without having to visit the local emergency room. More and more, we are seeing guests that either suffer from celiac disease or choose to be gluten-free for health reasons. According to the University of Chicago's Celiac Disease Center, celiac disease affects 1% of the population – that's 3 million people!  So if you're avoiding this pesky wheat protein, we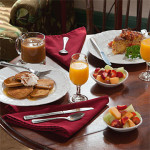 have you covered. When you check in, we'll provide you with a list of restaurants that offer gluten free options. And boy does St. Augustine have plenty of options when it comes to eschewing celiac. Let's work through a theoretical gluten free day of eating…
Breakfast – St. Francis Inn
Of course you'll be breakfasting with us – we are a bed and breakfast after all! Once you let us know that you have a gluten sensitivity, our kitchen staff gets to work, strategizing on the best way to keep you fed. We offer cooked entrees that you can safely consume, set out specially made, gluten-free breads to toast, and ensure that our oats for our oatmeal are certified gluten-free.
Lunch – Crave Food Truck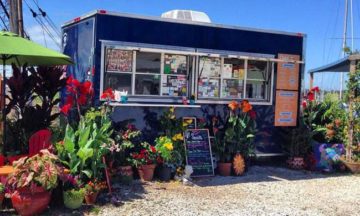 Hop on one of our bikes or climb aboard the Old Town Trolley and ride it over to the Distillery stop and you're a short minute away from food heaven. Crave Food Truck, opened by 2 nutritionists and fitness junkies, has been slinging healthy, locally sourced, and delicious foods to the locals of St. Augustine from a navy blue food truck. It's located at a small marina, with picnic tables set up so you can enjoy the breeze off the San Sebastian River. They offer an ever-changing menu, based upon what's locally available. They offer gluten free wraps and gigantic, fresh salads – make sure to try the sweet potato hummus and the yummy nutritional yeast dressing.

Dinner – The Floridian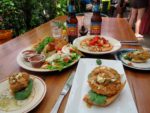 Stop by The Floridian, one of my favorite restaurants in town, and indulge in a southern specialty that you probably thought you'd never be able to enjoy – pork and waffles. Did you see what I typed? I'll type it again…pork and waffles. We're talking about slow-roasted BBQ pulled pork served with gluten free cornmeal waffles. Topped with bourbon-brown sugar glazed seasonal fruit, FL honey, house buttermilk ricotta and candied pecans. Owners Jeff and Genie McNally describe their food as 'innovative Southern fare for omnivores, herbivores and locavores.'  As much of their food product as possible is sourced from local farmers, butchers, dairys, and fishmongers. The menu rotates, depending upon the season. In addition to a number of entrees, they offer a great selection of gluten free appetizers and entrees – don't even get me started on the Biscuits and Belly appetizer!

Dessert – St. Francis Inn
No need to stay out late, just come back home to the inn! Our innkeepers will have a gluten-free dessert waiting for you, specially made by our accommodating kitchen staff.
Again, please, don't think that this encompasses all of your gluten free options. Our ever-growing list of restaurants that will accommodate a celiac free diet has 33 restaurants! Of course, if you have a severe celicac allergy, a call ahead to any restaurant is always good practice.