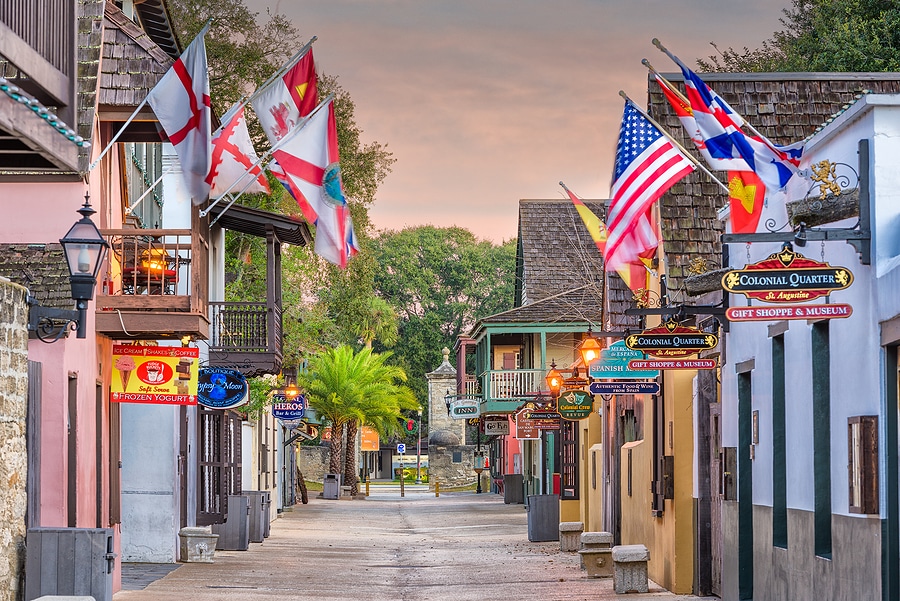 Explore the St. Augustine historic district and you'll find it to be a unique relic of the history of Florida and is a must-see when visiting! Here you'll be immersed in the culture of the nation's oldest city where many of the buildings and landmarks date back to the 1700s and today are listed on the National Register of Historic Places. Visitors will find a majority of the city's restaurants, shopping, and attractions in this area.
Our bed and breakfast just happens to be located among the sites you'll see when you explore the St. Augustine historic district. The Inn itself is a historic structure dating back to 1791. We offer the perfect blend of old-world charm and modern luxuries. Here you can unwind and relax after a day of sightseeing around this amazing city. We make it easy for you by being a walkable distance close to restaurants, museums, shops, and galleries. Whether you need a romantic getaway or are passing through for business the St. Francis Inn is here to welcome you. Book your room today!
Explore the St. Augustine Historic District
The city of St. Augustine is a distinctive place due to the fact that it was first built between the 16th and early 19th centuries. The historic district was designated a National Historic Landmark in 1970 and encompasses the colonial heart of the city. From the oldest surviving residences to the oldest masonry fort in the U.S. to beautiful bayfront views this area is a must-do on a visit to St. Augustine. The list of things to do here seems endless do we've compiled a list of our favorite 10 places to check out when you explore the St. Augustine historic district.
The Perfect St. Augustine Lodging
After you explore the St. Augustine historic district you'll need a much-needed break from the amazing sightseeing.  St. Francis Inn is your comfortable retreat from a busy day. Our cozy rooms are set up with your ultimate relaxation in mind. All guest rooms and suites are unique and come in varied sizes, decor, and locations.
From a small, intimate room to larger multi-room suites, you definitely will have options to choose from! All guests enjoy free amenities like buffet breakfast, all-day beverage service, use of Inn bicycles, and s' mores by the courtyard firepit among many others. For those who might prefer an even more intimate experience, check out our sister property Casa de Suenõs Bed and Breakfast. If you are ready for the perfect place to unwind in a place full of historic charm book your stay today!