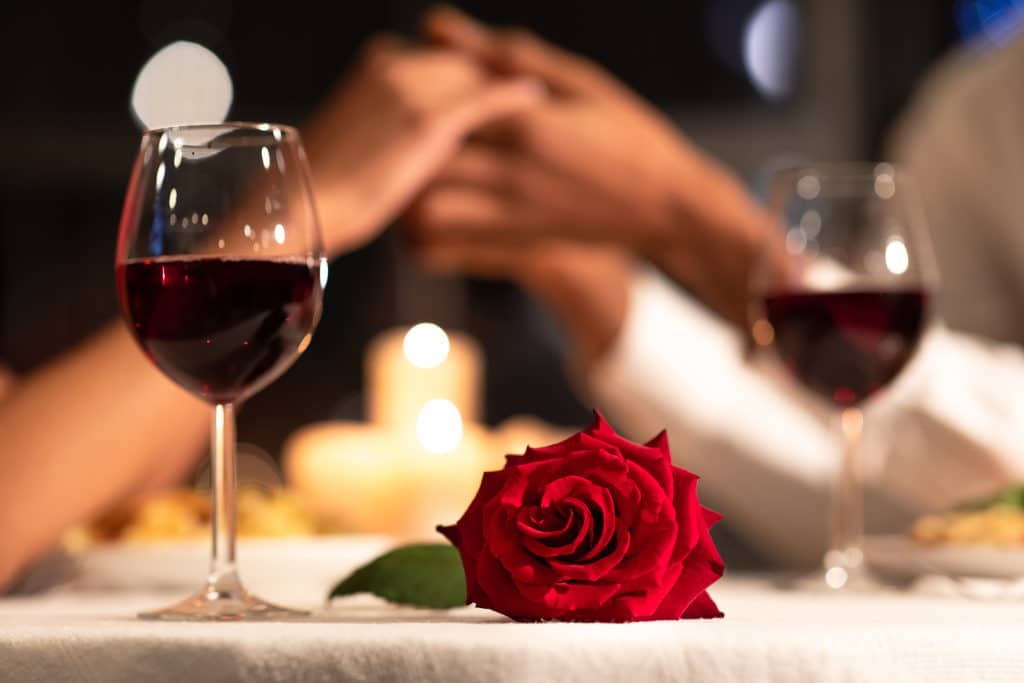 Our St. Augustine Bed and Breakfast will be your ultimate romantic getaway for you and your loved one! Enjoy the feeling like you are being well taken care of with our luxurious details and all you have to focus on is each other. Located within walking distance of historic downtown St. Augustine, our Florida Inn sets the stage for romance to blossom. The fact that our St. Augustine Bed and Breakfast is a historical structure itself adds to the whimsy of a bygone era. Stroll with your partner down brick-paved streets hand in hand, while finding the reconnection you need.
The romantic atmosphere of our St. Augustine Bed and Breakfast provides the best place to escape with your sweetheart. Our Inn may date back to 1791 but all of the modern comforts you know and love are here for your enjoyment.  St. Francis Inn is set back in a serene corner of town which creates a feeling of solitude. You'll hear horse-drawn carriages as they make their way down the historic streets.  This cozy and homey ambiance is the oasis you have been searching for!  If you are ready for the best romantic getaway in the nation's oldest city full of old-world charm, book your stay today!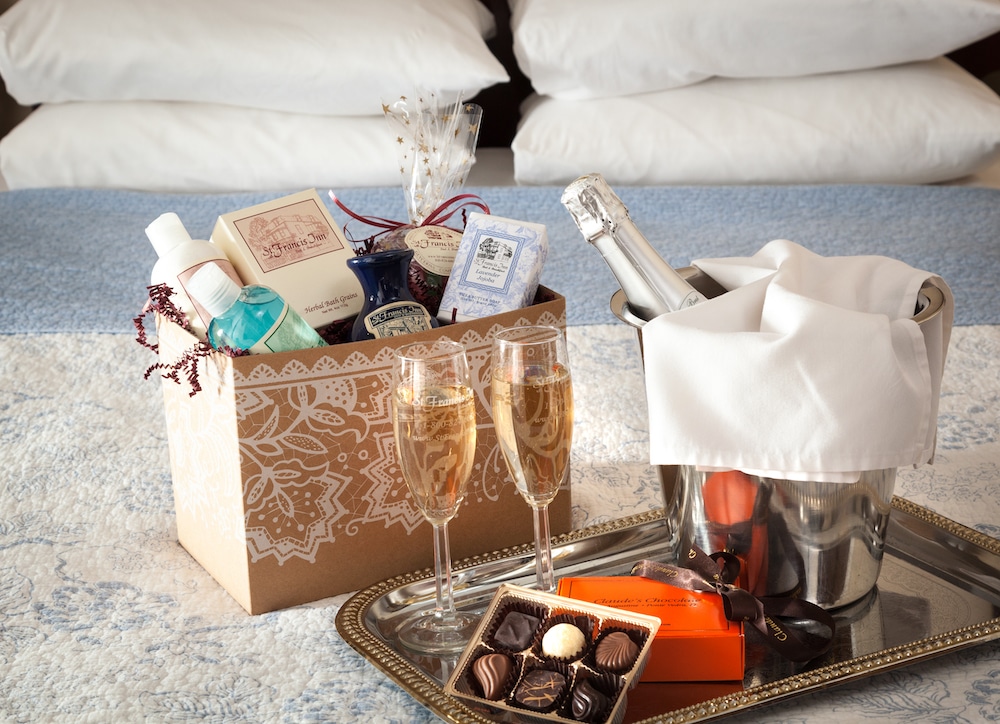 Find Romance at our St. Augustine Bed and Breakfast
It's not hard to find romance in the nation's oldest city! St. Augustine is a town dripping with details that take you back to a slower time. The city reflects its Spanish heritage in the architecture and streets. Romance permeates through every walk you take with your loved one through this incredible city. Get back to a place where you feel reconnected to your partner. It's time to treat yourselves to a romantic stay at our St. Augustine Bed and Breakfast. Here are 3 amazing romantic packages we offer. Leave the details up to us! It's time to remember what's important.
Our Pampered Romance package is ideal for a romantic getaway, a honeymoon, or simply, just because! Enjoy a gourmet breakfast served in your room one of the mornings of your stay. Upon arrival at our St. Augustine bed and breakfast, in your room, you'll find Savannah Sweets chocolates, locally made in historic St. Augustine. Cheers with complimentary champagne and keepsake champagne flutes to remember your stay. If you and your partner are in need of the ultimate relaxing activity, getting a massage, we offer a couples massage with this package for 60 minutes at nearby Salt Spa. Top off a romantic day with a delicious dinner at Columbia Restaurant where you'll savor the Spanish/Cuban cuisine. This historic restaurant has received the Award of Excellence from Distinguished Restaurants of North America among other numerous awards.
With our Sweetheart Fantasy Package you'll enjoy many of the things included in the Pampered Romance package like complimentary champagne, gourmet breakfast served in your room and Savannah Sweets chocolates. In addition to those amazing items, you will receive a keepsake embroidered St. Francis waffle weave robe to slip into and relax at the end of a day of sightseeing with your sweetie. Have fun flipping through a coffee table book you'll get filled with gorgeous photographs of St. Augustine. You and your loved one will get transported to another time with a deluxe horse-drawn carriage ride with Country Carriages. A gourmet dinner at Collage. This award-winning restaurant fresh local seafood, steaks, lamb, and veal. Each dish is made from scratch for the highest quality romantic meal.
If you and your partner have a sweet tooth you'll love our Chocolate Lovers Package! Enjoy delectable chocolate-covered strawberries made st our St. Augustine Bed and Breakfast. Head over to Savannah Sweets and use the $10 gift certificate we offer with this incredible package. If you are wondering where else in St. Augustine you can savor a tasty treat, we will provide you with a map of the town with all the best places to go marked for you.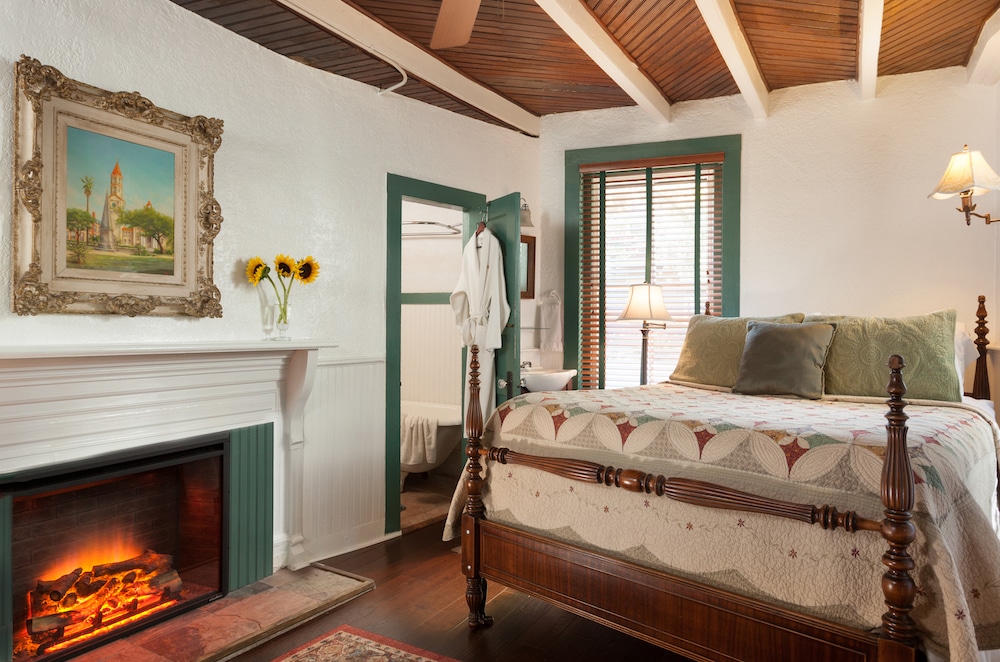 The Ultimate Romantic Florida Bed and Breakfast
Along with all of the incredible things you'll receive with our romance packages, guests at our St. Augustine Bed and Breakfast have access to amazing free amenities such as a full gourmet breakfast, cookies and iced tea available all day, a pool to relax around, a romantic walled courtyard to unwind in, and an evening social hour with complimentary beer, wine, and appetizers.
Let our St. Augustine bed and breakfast help you and your sweetheart find time for yourselves. With our romantic packages, the details are left to us so you can focus on each other. Our romantic guest rooms and suites are each special and unique, varying in size, location, and decor. But all are beautifully appointed and set up with the modern comforts you expect for a stay you and your partner won't soon forget. If you are ready for the best place to turn up the romance in St. Augustine, book your room today!