Where were you in June 1985? Long time ago, right? Well, Joe and Margaret Finnegan were purchasing the St. Francis Inn at that time, and have been running it for 30 years now.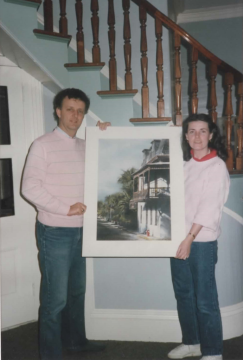 Joe and Margaret Finnegan in 1985.
Both Joe and Margaret were teachers of the deaf at the Florida School for the Deaf and Blind when they decided that they wanted St. Augustine to be their permanent home someday. Although their careers took them to Pennsylvania and South Carolina, they dreamed of living and working in St. Augustine.
In 1985 they purchased the St. Francis Inn. It wasn't until 1996 that they were able to make the move to St. Augustine and run the inn themselves. Also in 1996 they made major renovations to the inn including all new wiring, central air conditioning, new flooring, a kitchen, reconfigured rooms and private bathrooms. The inn was closed for four months during the renovations.
Today the St. Francis Inn is a popular bed and breakfast, and when National Geographic compiled it's "2013 Best Trips" list both St. Augustine and the St. Francis Inn were on the list.
For the complete story click here.