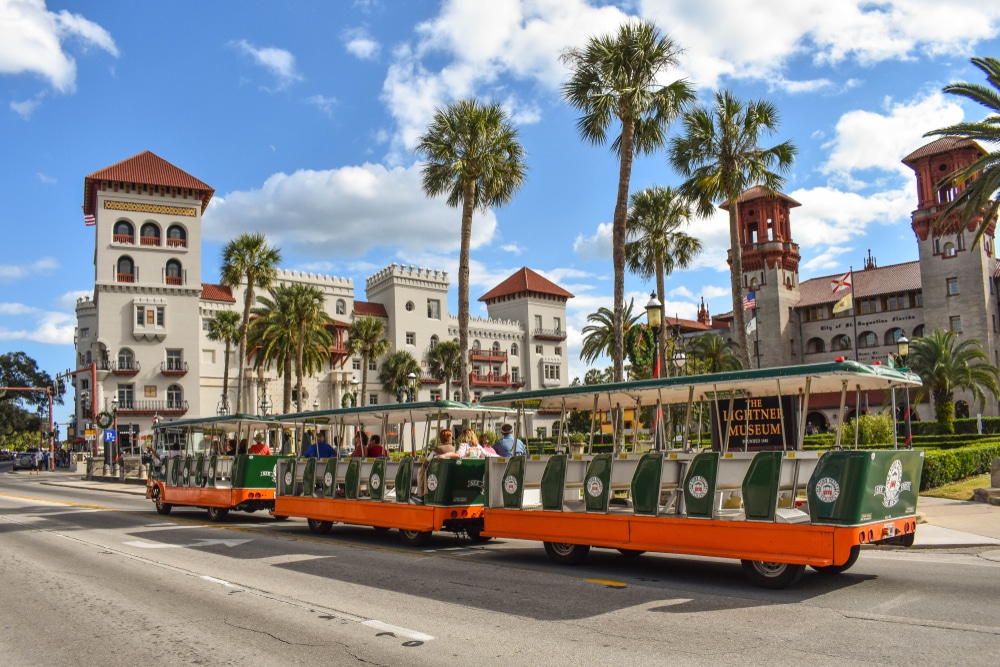 The Nation's Oldest City is the perfect place for exploring without a car—it's incredibly pedestrian and bike-friendly, and you'll find a superb selection of tours by trolley in St. Augustine. Hopping on and off the interconnected tours is a quick and easy way to get a lay of the land and see the area's major historical sights, museums, and fascinating architecture. Taking the trolley in St. Augustine is not only a great way to see the city but also the best way to hear the stories and gather interesting tidbits, helping you gain a new appreciation for the oldest port city in America.
And this is Florida, after all, and sometimes grabbing a ride is way better than walking in this heat! Regarding tours in St. Augustine that offer an excellent overview of the city, nothing beats the experience on Old Town Trolley Tours. This local company is the most well-known option for a trolley in St. Augustine.
They have fully narrated tours of St. Augustine and make 22 hop-on/off stops, showing off more than 100 exciting attractions along the way. Overall, it's a very convenient way to get around the city! The Old Town Trolley in St. Augustine travels a seven-mile loop and takes approximately 90 minutes. However, you should definitely plan a hop on and off at a few of our fantastic attractions or museums. 
As you explore by trolley in St. Augustine or on foot, you'll need a quiet and relaxing place to unwind after all that sightseeing! Our St. Augustine Bed and Breakfast is the best place for an escape—you'll be surrounded by the old-world charm of the St. Francis Inn, pampered by our incredible staff and Innkeepers, and feel entirely at home in our comfortable guest rooms and suites. There's nothing cookie-cutter about our 1791 St. Augustine Bed and Breakfast, our historic space creates an unforgettable getaway to Florida. And we'll take care of your morning meal, included with your room rate, and the best way to start the day. Check out upcoming availability and reserve your room today!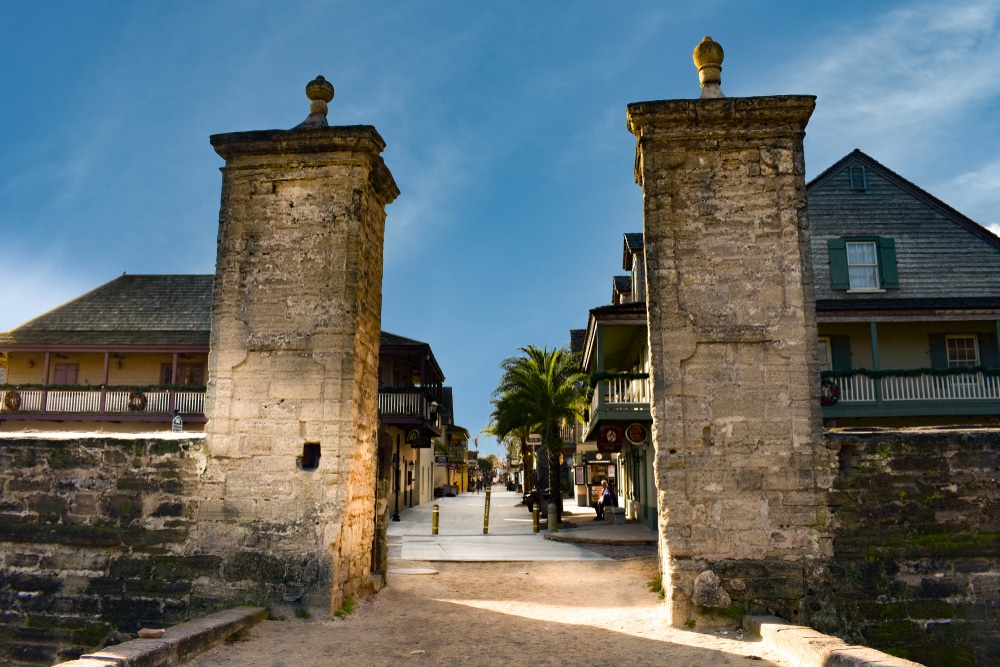 Tour the Oldest City by Trolley in St. Augustine
For those who love walking and exploring on foot, the trolley in St. Augustine is the perfect addition to get you where you want to go. With Old Town Trolley Tour, you can book one-day, two-day, or special curated tickets, depending on what you'd like to see and do.
Here are a few of the highlights that you'll see by trolley in St. Augustine:
You'll go by The Old City Gates, which used to be the only entrance into St. Augustine (pictured above). The two ancient columns were built in 1808 as a line of defense for the city, symbolizing the struggle faced by the earliest American Colonists.
The Colonial Quarter, also known as The Spanish Quarter, captures the essence of this great city's diverse heritage.
Hop off at St. George Street, a famous pedestrian-only thoroughfare and the epicenter of downtown St. Augustine. You'll find a variety of great shops, restaurants, museums, and more, and it is one of the most popular attractions in the city. It's also within walking distance from our St. Augustine Bed and Breakfast. 
The Lightner Museum, whose building originally housed The Hotel Alcazar, was built by railroad tycoon and hotel developer Henry Flagler, and it is a stunning example of Spanish Renaissance architecture. Inside, you'll find beautiful collections marking a period known as the Gilded Age.
Hop off near the St. Augustine Distillery, housed in a historic 1917 ice manufacturing plant. They offer free tours daily, exciting bartending classes, and tips, and you can relax in their tasting room with a fancy cocktail. Then hit the next spot by trolley in St. Augustine!
Another fun destination along this St. Augustine Trolley tour is the San Sebastian Winery, whose wines we serve every evening at our St. Augustine Bed and Breakfast.
Don't miss a sweet treat on a daily tour at Whetstones Chocolate Factory. As a stalwart chocolatier opened in 1966, you'll taste some luscious truffles.
So many people come to St. Augustine for this city's long and rich history, so don't miss your chance to stop at the oldest house in St. Augustine.
One of the most iconic attractions to see by trolley in St. Augustine is the Castillo de San Marcos, which is the oldest masonry fort of its kind in the continental United States. It was initially built to protect the coast from invaders.
Finally, you reach the famed Fountain of Youth. The Fountain of Youth National Archaeological Park is considered the state's oldest attraction, and it commemorates the Florida landing of Ponce de Leon in 1513. Not only is it historical, but the park is gorgeous.
Old Town Trolley Tours also offers a specialty tour called the Ghosts and Gravestone Tour. As the oldest city in the nation, there's a long history, some of it on the dark side, and tours like this are a great way to get acquainted with the spooky stories of the past. Along the way, you'll visit some of the most haunted places in the city!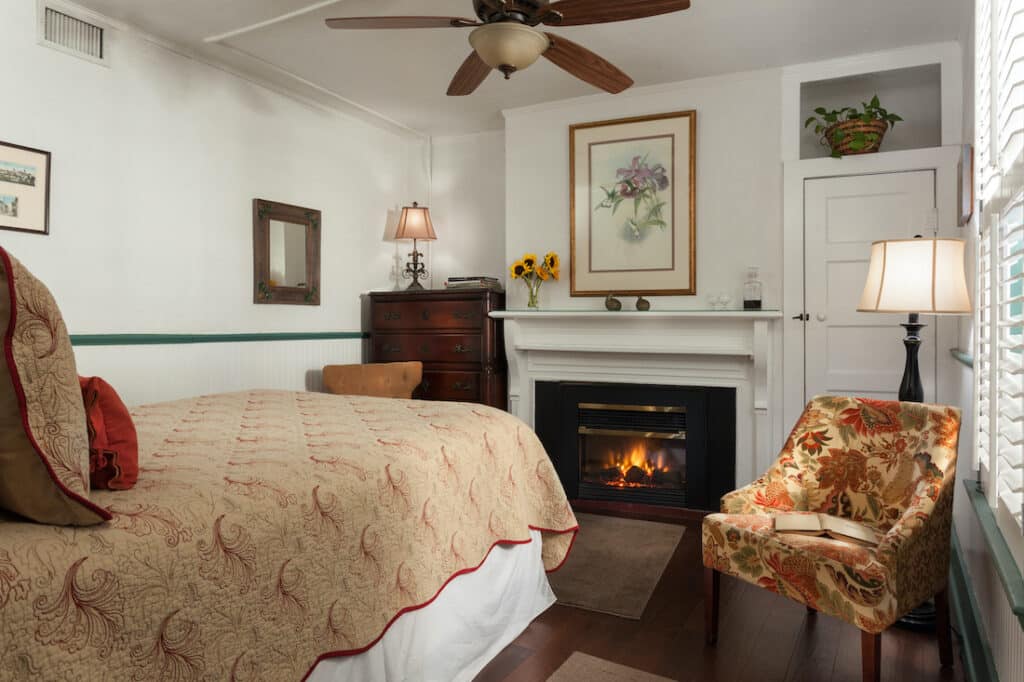 One of the Best St. Augustine Bed and Breakfasts
After an exhilarating day exploring our city by trolley in St. Augustine, let our historic St. Augustine Bed and Breakfast be your romantic escape to the oldest city in the nation! Relax and unwind in your private guest room after a day of explorations and adventure. Slip into our cozy and plush robes and feel refreshed after a dip in our private hideaway swimming pool. Enjoy the tranquility of our walled courtyard garden as you savor your gourmet breakfast or take in an evening social hour.
Our beautiful Inn is within walking distance of many attractions, so as you hop on and off the trolley, you'll be able to quickly get back to your room if needed. You'll love our casual yet elegant accommodations, all of which are distinct, with unique layouts to accommodate anything from romantic getaways for two, group vacations, or family-oriented lodging. Each of our 19 guest rooms and suites is set up with your ultimate comfort in mind. You can retreat to your unique guest room, each set up slightly differently, but all with the modern amenities needed to make your stay memorable and relaxing. Choose the room that best suits your needs for the perfect vacation getaway.
For those who might be looking for a more intimate St. Augustine Bed and Breakfast, check out our sister property—Casa de Suenõs. We offer the same extensive list of complimentary amenities, unlike any other lodging properties in St. Augustine. Both of our St. Augustine Bed and Breakfasts are in ideal locations for using the trolley in St. Augustine to your advantage. Head over to our booking calendar and reserve your room today!