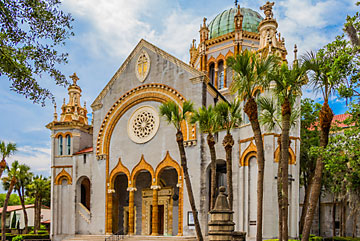 The sanctuary of Memorial Presbyterian Church was given by Henry Flagler, dedicated in 1890 as a memorial to his eldest daughter Jenny Louise Benedict, who died at a young age from complications during childbirth. Flagler is entombed in the church, along with his first wife Mary, Jenny Louise, and granddaughter Marjorie. Flagler was the son of a Presbyterian minister, and donated the church, the land, and the former parsonage to the existing First Presbyterian Church Congregation of St. Augustine, in exchange for their former properties at the corner of St. George and Hypolita Streets, where Flagler had the 1890 Municipal Building erected for the city. The columns that stand at the church entrances were built from blocks taken from the walls of the old First Presbyterian Church which had been built from 1825-30.
Today the church looks much as it did when it was first constructed from the designs of noted architects Carrere and Hastings. Historically, Memorial Presbyterian is one of several pioneer large concrete buildings which Flagler constructed in St. Augustine. It was built in the Venetian Renaissance Revival style, and elements of its architecture echo St. Mark's Basilica in Venice. Features include a copper dome, pointed arches and elaborate decorative details in brick and terra cotta.
The church's interior is laid out in the shape of a Latin Cross, with major axis running North/South. The circular Flagler Family Tomb projects from the west side. The floor is siena tile laid in Venetian pattern, with twelve plaques of violet broccia marble symbolic of the twelve apostles. The Baptismal Font is solid siena marble, with fine Italian carving. The curved eagle lectern is above the font, with a carved choir screen above and behind the rostrum. The pews, panelling and doors are finely carved mahogany from Santo Domingo. The stained glass windows were a gift of Mr. Flagler in 1902 and represent articles of the Apostles' Creed. The rose window in the west end is a symbol of God the Father Almighty.
In 2012, CNN designated Memorial Presbyterian Church as one of the "8 religious wonders to see in the U.S." The church is an active Presbyterian congregation, and visitors are invited to worship. Major organ concerts are also presented at the church.
Located at 36 Sevilla Street, St. Augustine, FL.