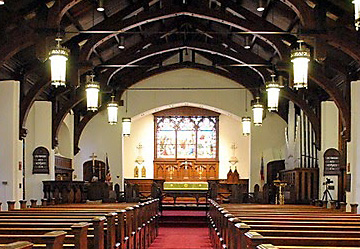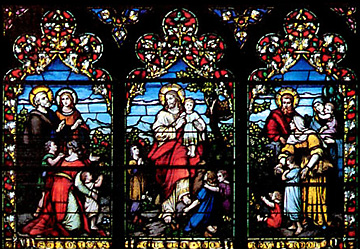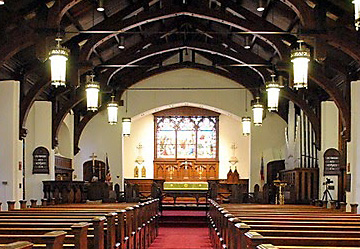 Fronting on the central Plaza in St. Augustine's Old City district, the original historic Trinity Episcopal Church was constructed from 1830-31 and rebuilt in 1902. It is the oldest Protestant church in Florida. The original church, constructed of local coquina stone, was 36 feet wide by 50 feet long. Three stained glass windows were added in 1857, the first of 29 stained glass windows installed in the church over 150 years. The windows at Trinity Episcopal depict many great biblical figures and events. Ten of the windows were made in Munich, Germany. One window is signed Louis Tiffany Window, and others were created by noted stained and painted glass makers. Several were funded as thank offerings and as memorials to loved ones and rectors. Companion windows, depicting Evangelists Matthew, Mark, Luke, and John, accent the original entrance on King Street, and are the only stained glass windows in the church which were designed to be viewed from the church's exterior. A large circular rose window is in the nave above the St. George St. entrance, with a design of the Holy Spirit symbolized by a descending white dove; a copy of a window in St. Peter's in Rome.
Plans were unveiled in the late 1800s to rebuild the church and parsonage on the site of the old church, preserving the original front of the church. The church had become too small and was in poor condition. Reconstruction of the church took place after a six-year period of obtaining plans and raising funds. First services were held in the "new" church in January 1903. The main entrance to the church had been re-oriented to St. George Street, and a neo-gothic style was used for a cruciform layout. The church capacity was increased to 500 worshipers. By the 1960s, the number of parishioners had again grown considerably. A parish hall, kitchen, classrooms, administrative offices, cloistered walkways, and other new facilities were added, complementing the neo-gothic architectural features of the historic church building.
The church is located 215 St. George Street, St. Augustine FL.