My long-time girlfriend Bonnie, who lives in St. Petersburg, visits me every 4th of July. Sometimes we watch the fireworks. We always hit the Outlet Mall Sales, and shop downtown St. Augustine. This year we wanted to do something different. So I booked a Dolphin, Birding, & Nature Tour with St. Augustine EcoTours. Owner Zach McKenna recommended the day after the holiday because there would be far fewer boats on the water. So I booked a 9am tour for Sunday, July 5.
We arrived promptly at 8:45am – sunscreen already applied, hats in hand, and cold water in a small cooler.  Adam introduced himself as our guide for the trip. Bonnie and I had him all to ourselves as most of St. Augustine was still sleeping off the 4th!  It was already pretty warm (high 80s) but once we stepped on the small boat, Adam acquainted us with all the safety gear, and we got going on the Matanzas River, it was wonderfully cool.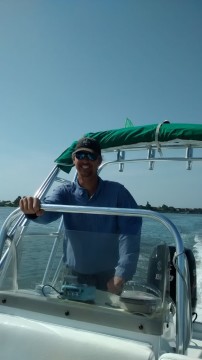 Adam was our captain and our guide.
All the guides are interpretive naturalists and USCG licensed captains. Adam showed himself to not only be knowledgeable about the estuary waters and wildlife, but to care about the wildlife and ecosystems we learned about.
Our first stop was at a marsh area; it was filled with several shorebirds: great blue herons, egrets, a roseate spoonbill and a tri-colored heron . Bonnie mused that she wished she had brought binoculars, and SNAP! Adam handed her a pair of binoculars!
Our next stop was Fish Island where we learned about the mangrove trees and how they have tubes coming up like straws out of the water.  We also – on the other side of the small waterway – saw a small sandy area covered with fiddler crabs. Adam explained how the fiddler crabs were the keystone of the ecosystem.
We zipped under the Hwy 312 bridge and stopped at a marker of some sort. Adam pulled some "stuff" off the marker from under the water. Then we zipped over to the shallower water and stopped. Adam had this plastic container filled with seawater and "stuff". That stuff turned out to be all kinds of sea LIFE! He placed his hand in the water and it was covered shortly with pistol shrimp! What amazing creatures they turned out to be!! And we saw 6-legged sea stars in the midst of reproducing (they divide into 2 3-legged sea stars then grow the additional 3 legs). We talked about oysters and barnacles and, well, you'll just have to take the tour to learn all the amazing things about the sea life out there!
We turned around and headed north at this point – under the Hwy 312 bridge again and then under the Bridge of Lions. It wasn't long before Adam spotted a dolphin and pointed him (her?) out to us. The dolphin passed close by headed south – what a beauty. The dolphin had a unique dorsal fin and Adam explained that they keep a count of all the dolphins that live in the river and identify them by their dorsal fins. I believe he said there were about 200 dolphins living off the shores off St. Augustine.  We headed south again and spotted a couple of dolphins, but they were headed away from us.
Something else that happened on the tour – trash pickup! Adam veered over a few times to snag a gallon jug and several plastic cups. He said that by the end of the day he can, sadly, get a pretty sizable pile of trash out of the river.
We headed back to the marina – seeing St. Augustine from the water was a fabulous and very different experience. We watched the Bridge of Lions go up & down: it's a lot more fun from the water!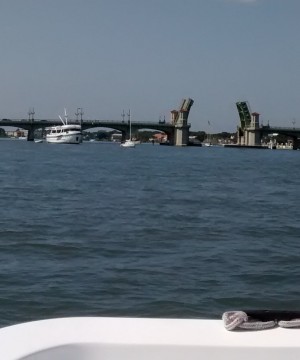 The Bridge of Lions as viewed from the water.
This tour was 1.5 hrs and was just right. Bonnie and I had so much fun we forgot to drink our water and we took few pictures! Being on the water is amazing and we cannot wait to book a tour when she visits this fall; next time it will be a kayak tour.
By the way there is no "good" time or "bad" time to see the wildlife. As Adam explained the estuary is a harsh environment and the wildlife is surviving as best they can no matter the time of day or weather. (St Augustine EcoTours will cancel trips in rainy or stormy weather for safety reasons, of course.)
Here's the website with all the various tours listed: www.staugustineecotours.com
And when you visit St. Augustine, stay with us at the St. Francis Inn! We have some packages that include tours with St. Augustine Eco-Tours.
Some of the wildlife we viewed (pictures are pulled from the internet; we only had our phones which did not take the greatest pictures). Feel free to bring your good cameras; this was a totally dry tour!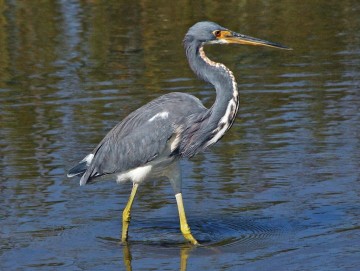 A tri-colored heron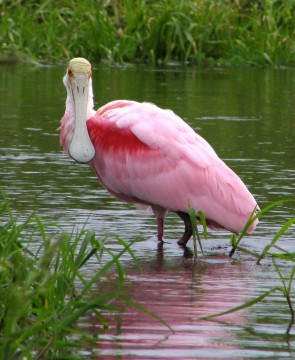 roseate spoonbill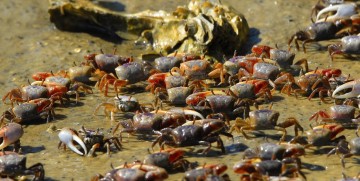 fiddler crabs