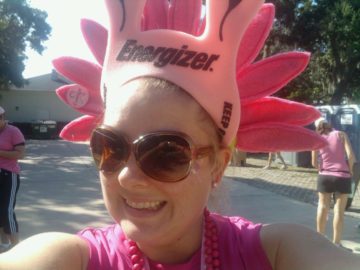 Many of you know our food and beverage manager, Janice, as the smiling face that makes delicious veggie-filled stratas, pillowy cinnamon rolls, and decadently rich desserts. What you may not know is that this smiling face has walked 300 miles in the name of advancing breast cancer research…and she's getting ready to bump that total up to 360!
Susan J. Komen is the largest and best-funded breast cancer research organization in the United States. Susan Goodman, later Susan Goodman Komen, was born in 1943 in Peoria, Illinois. She was diagnosed with breast cancer at the age of 33. She died of the disease at age 36 in 1980. Komen's younger sister, Nancy Goodman Brinker, who believed that Susan's outcome might have been better if patients knew more about cancer and its treatment, promised her sister that she would do everything she could to end breast cancer. To fulfill that promise, Brinker founded the Susan G. Komen Breast Cancer Foundation in Komen's memory in 1982. To date, Komen has funded more than $800 million in breast cancer research.
Fourteen years ago, the foundation started organizing 3 day, 60 mile walks. The route is fully supported by an experienced crew, who provide camp sites for the 2 nights spent on the road. These events are hosted throughout the United States.
Janice began walking in 2010.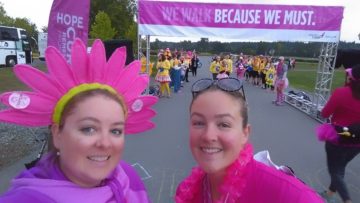 "I started my 3-Day journey in 2010…I saw a commercial for the Tampa Bay 3 Day and thought…60 MILES, that really means something…I need to do this! I called up my sister to see if she was in…she said YES, and the rest is history. We have participated in Tampa in 2010, Washington DC in 2011, Philadelphia in 2012, Atlanta in 2013, and Seattle in 2015. We have had a fantastic time…even through the tears (this stuff can be tough). We have even managed to drag some of our family along for the ride too…our Dad, Mom, Step-Dad, and an Aunt have all participated. We are always up for more people to join our team by the way! We are back at it again in 2017, again in Seattle…I needed another go at those darn hills!!!!
We started out walking for our Nan (a 16 year survivor) and have collected MANY more people to walk for over the years. Let us walk for you, for your family & loved ones, for our future generations…that they may never know what Breast Cancer is!"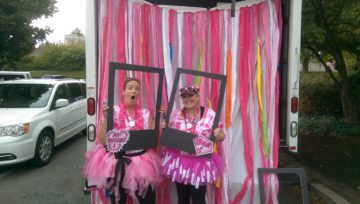 Janice is participating in the Seattle event this year, which takes place September 15 – 17. We'll be sure to update our Facebook page with her progress. She has set a personal goal of raising $5,000.00 and her team, Cancer Bugs Us, has set a goal of raising at least $12,000.00 (WOW) to donate towards cancer research. To donate, visit her page. From the pictures, you may notice that Janice wears a pink tutu in all of her walks. This is her "Why I Walk" tutu. It has tags with the names of all of the women for whom she walks. If you would like Janice to walk for someone very special to you, message her on her donation page and she will dedicate a mile to them.
Our St. Francis Inn family couldn't be more proud of Janice and her tremendous dedication to such an important cause!