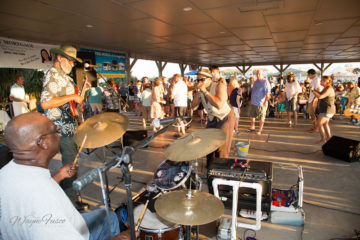 St. Augustine has a vibrant and eclectic arts and music scene, one of the many things we love about this beautiful town. But don't assume that it only exists in the downtown area. St. Augustine Beach has many wonderful events to offer. One of the longest running is the Music By The Sea concert series. Entering into its 15th season, this concert series is provided free of charge to locals and visitors alike, by the St. Augustine Beach Civic Association with assistance from a number of local businesses and organizations.
Every Wednesday throughout the summer, this concert series features 16 local musical acts, ranging from jazz and blues to pop and soul. In addition to the fantastic music, each week a different local restaurant comes out and serves a signature dish to enjoy an hour before the concert begins. The dinner is always affordable, with items costing less than $10.00. After dinner, Jasper's Snack Shack offers fresh squeezed lemonade, soft serve ice cream, pretzels, and boiled peanuts. And of course you can pack along snacks and drinks to enjoy at your leisure.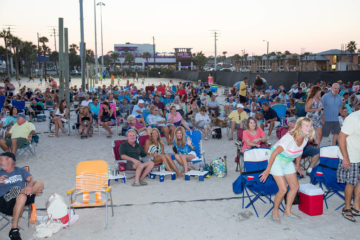 Dinner starts at 6:00 p.m. and the music goes from 7:00 – 9:00 p.m. Coolers, blankets, and beach chairs are welcome. It's important to keep in mind that parking is limited in and around the Pier Park. Please use the Park, Ride & Dance shuttle program. Just park your car at St Augustine Beach City Hall (2200 A1A S) or Ron Parker Park (607 Old Beach Rd) and then hop aboard bright orange Sax Shuttle Bus. Civic Association members ride free! Non-Members pay just $1 and kids 12 and under always ride free with a paid adult. The shuttle is air conditioned and has plenty of room for your cooler and beach chairs. The shuttle runs a continuous loop from 5:45 PM until 10 PM. The series starts on Wednesday, May 24 and continues through the middle of September.
| | | | |
| --- | --- | --- | --- |
| Date | Band | Style | Restaurant |
| 5/24/17 | Ramona Quimby | Jazz/R&B | Purple Olive |
| 5/31/17 | The Committee | Pop/Dance | Amici Italian |
| 6/7/17 | Those Guys | Classic Rock | Seafood Kitchen |
| 6/14/17 | Ain't Too Proud To Beg | Dance/Pop | Oyster Bar |
| 6/21/17 | Str8-Up | Disco/Pop | Panama Hatties |
| 6/28/17 | Jax English Salsa Band | Latin | LaStrada Italian |
| 7/5/17 | Chillula | Pop/Dance | Mango Mangos |
| 7/12/17 | Billy Buchanan & Free Ave | Motown/Pop | By Design Catering |
| 7/19/17 | Grapes of Roth | Classic/New Rock | Red Frog & McToads |
| 7/26/17 | Amy Alysia & Soul Operation | R&B/Pop | Raintree |
| 8/2/17 | Soulfire | 70's/0's and more | Little Margies |
| 8/9/17 | Go Get Gone | Rockabilly | South Beach Grill |
| 8/16/17 | JW Gilmore & Blues Authority | Blues | Blackfly |
| 8/23/17 | Maggie Baugh | Country | Gypsy Cab |
| 8/30/17 | Catch the Groove | Jazz/Funk/R&B | Salt Life |
| 9/6/17 | 15th Anniversary All Star Show | Classic Rock | Viola's Pizza & Pasta |
| 9/13/17 | Mr. Natural | Southern/Classic Rock | Sunset Grille |
*Photographs by Wayne Fusco Photography