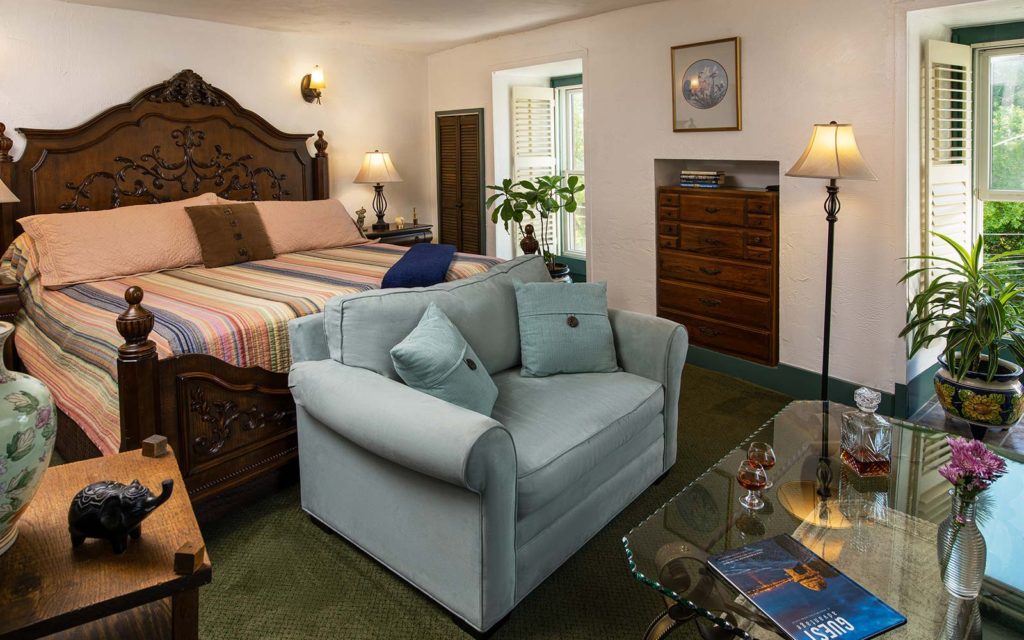 Our St. Augustine hotel is ready to welcome you to the oldest city in the nation! The St. Francis Inn is located just steps from many of the attractions, points of interest, restaurants, and shops in the historic district. Our bed and breakfast is a part of this dynamic city's history as well, being built in 1791 and is often referred to as the town's "oldest inn".  If you are coming to St. Augustine it is fitting that you must stay at a historical hotel like St. Francis Inn! The historical charm is seen and felt but we still offer all the modern comforts you love.
Let our Florida bed and breakfast be your ultimate getaway this season! All guests are treated to having private baths, beautiful antique or reproduction furniture, heat and air-conditioning, king or queen size beds, and much more. After a day of exploration in the oldest city in the nation, you'll have peace of mind knowing that you are coming back to a quiet, casual, and elegant space. This perfect escape has everything you could ever want. If you are ready for the best vacation at our St. Augustine hotel, book your stay with us today!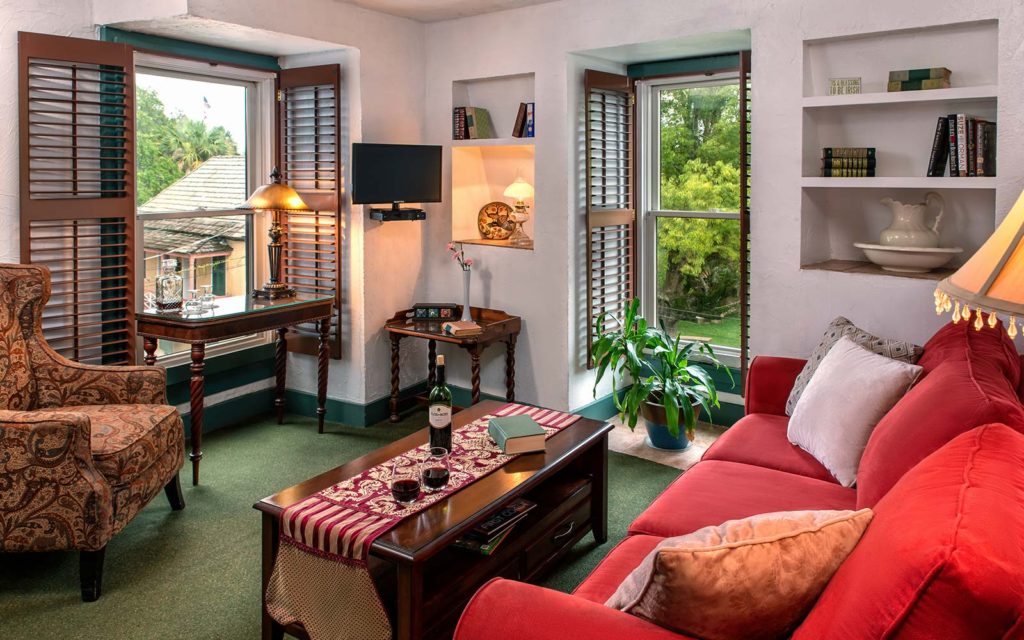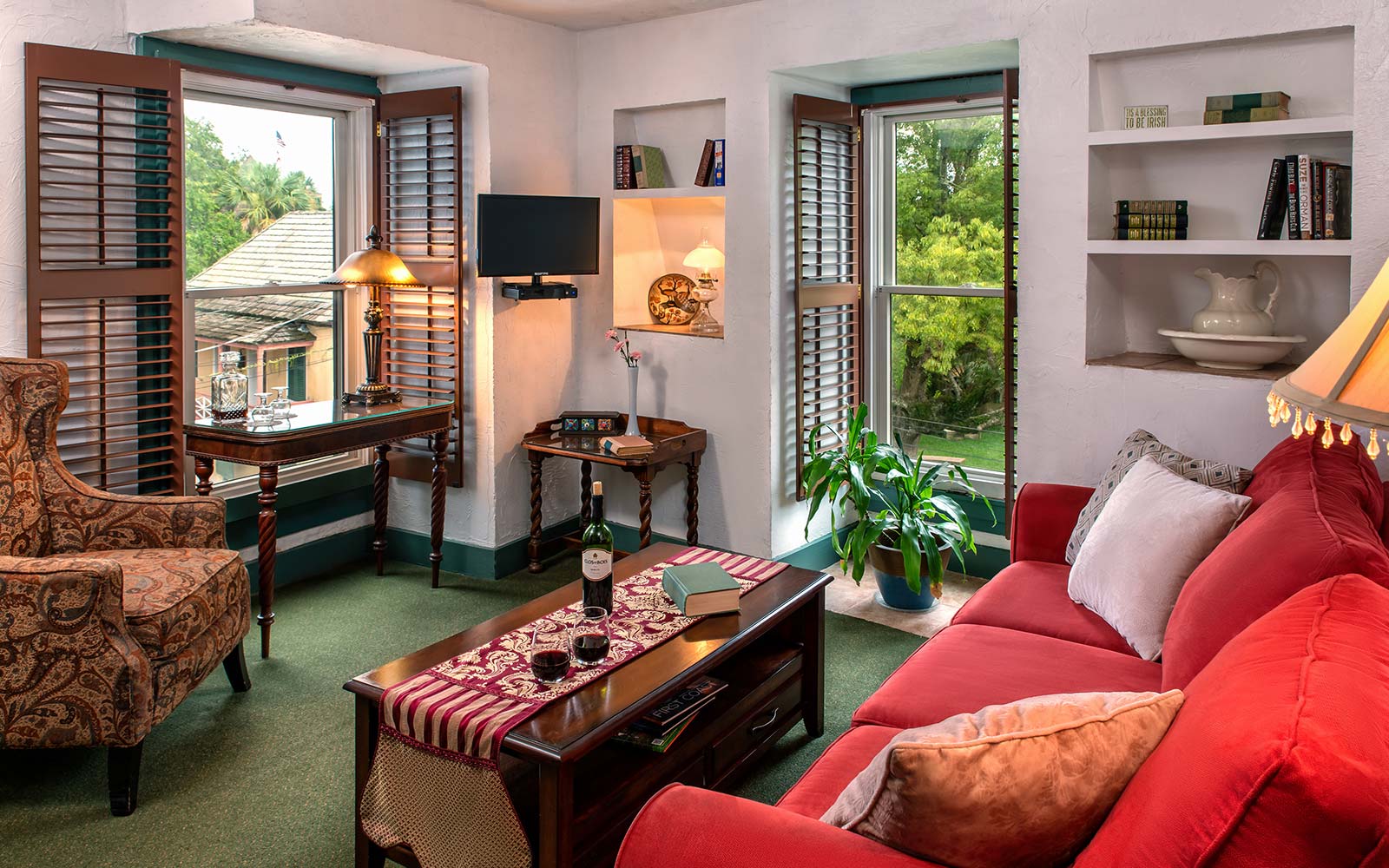 The Best St. Augustine Hotel
In the heart of the oldest part of the city sits our St. Augustine Hotel. But we are not right in the middle of all the action. Our accommodations are located on a more secluded, quiet corner of town so you'll feel as if this is your private sanctuary to rest, relax, and rejuvenate for more adventures. The narrow, brick-paved streets that surround our St. Augustine hotel lead to museums, historical sites, restaurants, shops, and more. We are conveniently located but still maintain a serene ambiance. Here are 5 reasons why we are the best St. Augustine hotel near downtown.
Our guest rooms are a big part of why we are the best St. Augustine hotel. Rooms are all elegantly and tastefully appointed with classic decor that hearkens back to another time. All rooms are different and unique in configuration, decor, and amenities which makes your stay even more special. Perhaps you want a room with a private deck and an outdoor seating area. Or maybe you would like an electric fireplace, a private front porch overlooking the gardens, or a whirlpool tub with your shower. Choose the best room that will make your stay perfect.
Our award-winning gardens provide an oasis in the middle of the city for you to escape to and relax. The native species in the walled garden courtyard that make up the vegetation in the landscaping compliments the ambiance of our Florida inn. This sanctuary is perfect for year-round enjoyment. Here you can read, unwind at the end of the day, savor a delicious breakfast, share in the inn's social hour, and cook s'mores at the firepit at our St. Augustine hotel.
The seemingly endless list of amenities we offer will help make your stay at our St. Augustine hotel that much more memorable. You'll enjoy taking a dip in the swimming pool to cool off on a hot day. The pool is temperature-controlled and so maintains a temp of about 85 degrees for year-round fun. The poolside is also another great place to lounge. If you'd like to head to nearby St. Augustine Beach we can set you up with beach towels, chairs, and off-street parking. We offer these and many more amenities to make your stay as comfortable as possible!
We want to make sure that you start your day of exploring St. Augustine off right so we offer breakfasts each morning at our St. Augustine hotel. Breakfasts always include 2 hot homemade entrees, fruit, and freshly baked bread. On Saturdays and Sundays, a special extended brunch is served until 10:30 am. You'll end each day with our homemade desserts, different every day. You savor layer cakes, fruit pies, crisps, and chocolate brownies to name a few.
One of the best things about our St. Augustine hotel is that it is located near downtown and so is a part of the history of this incredible city. The colorful past of this "oldest inn" includes being a part of the city's second Spanish Colonial period. The architecture reflects this time when homes were constructed like fortresses in case of attack. The home passed through many hands, much of which were military personnel. Today the inn stands as a retreat and escape from the hustle and bustle of the downtown while still being conveniently located.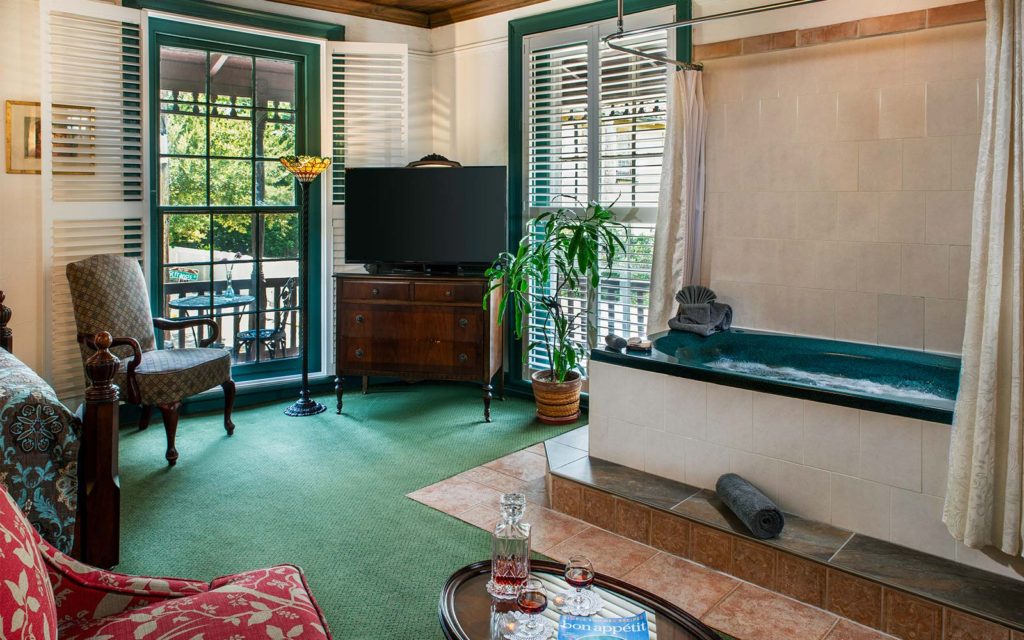 The Perfect Florida Lodging
Our St Augustine hotel will be the perfect place for you to plan a getaway to the oldest city in the nation! Relax, slow down, and unwind at our Florida accommodations that are set up with your ultimate comfort in mind. You'll rest well in our guest rooms, eat a hearty breakfast, and have lots of options of places to lounge.
Our historic bed and breakfast is just what you need to help melt the stress away. Since we are so close to attractions in downtown St. Augustine you can sneak back during the day for a catnap or a dip in the pool. If you are ready for the best place to stay in the heart of St. Augustine, book your room today!