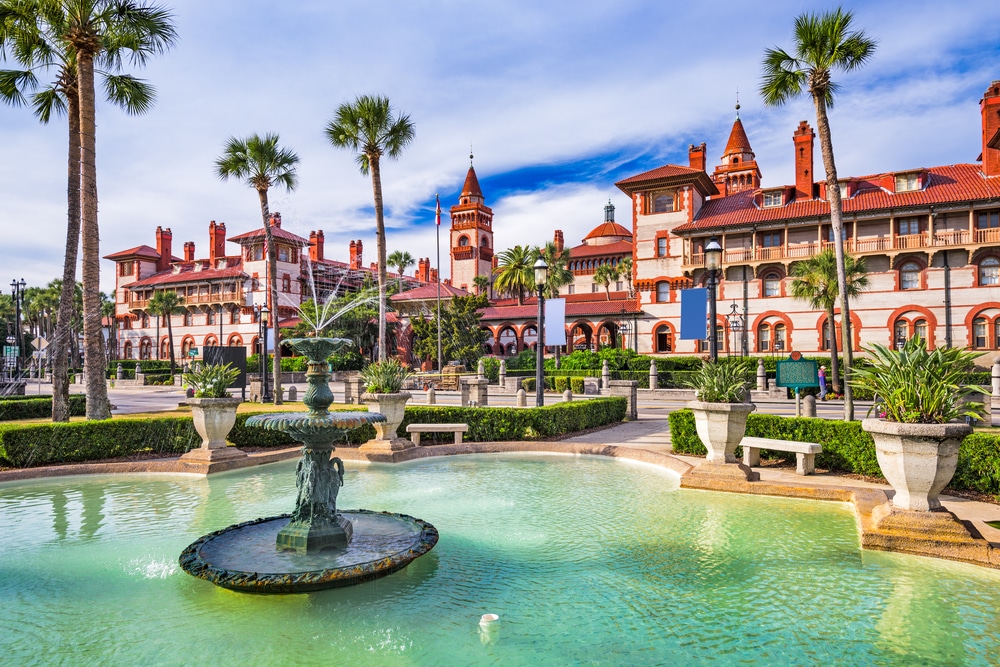 There is limited parking in downtown St. Augustine, which means staying at a hotel or Bed and Breakfast where parking is included and driving isn't necessary is important.  That's exactly what you'll find when you stay at the historic St. Francis Inn, or even our sister property the Casa de Suenos Bed and Breakfast.  Both properties are walkable to the top attractions, restaurants, and more in downtown St. Augustine.
Not only is the location of our hotel in downtown St. Augustine superb, but it comes with a broad range of amenities and modern conveniences, along with comfortable guest rooms, plenty of old world charm, and the best hospitality around.  There's a reason guests have been choosing to stay at our downtown St. Augustine hotel year after year!  Let us help you enjoy your vacation – Book your room at our St. Augustine hotel today!
The Best Things to do in Downtown St. Augustine
The best way to explore downtown St. Augustine is on foot.  For one, driving in the oldest part of the city isn't allowed, and where it is, parking can be a pain.  But walking also allows you to see and appreciate so much more of the historic architecture as you meander.
Below, we've compiled a guide of the top 10 attractions to see and do while visiting the historic downtown St. Augustine, starting at our hotel, the St. Francis Inn. If you completed this walking itinerary all in one day, it would take you around 2 hours (in addition to any time spent at each attractions, of course).
Without further ado, here are the best things waiting for you as you walk around downtown St. Augustine:
About 7 minutes away up St. George Street (and one block to the west), you'll find the Lightner Museum, which stands as a beautiful tribute to the Gilded Age era when it was built, and houses a wonderful collection of art, history, and design.
From the museum, head back to St. George Street and continue to the Plaza de la Consticion, which is at the very heart of the historic city center, and is surrounded by beautiful buildings, including the cathedral.
Just across the street is the Cathedral Basilica of St. Augustine, a beautiful example of Spanish Colonial Revival architecture, and the oldest Christian congregation in the country.
To the east of the Cathedral on Cordova Street is the historic Flagler College. The college is still active today, and the historic campus is a beautiful place to walk around.  There are also historic tours of the campus available.
Once you've toured the historic college grounds, head back towards the Cathedral and continue on to Ponce de Leon Circle and the Bridge of Lions – one of the most iconic sites in the city.
Once you've taken pictures of the Bridge of Lions, it's time to head back to the pedestrian-friendly St. George street, and up to the Colonial Quarter, where you can journey back through time in St. Augustine. It's about a 10-15 minute walk away, with plenty of great shops to see along the way.
The Oldest Wooden Schoolhouse is next, which is a unique treasure housed in an old Minorcan homestead from the 1700's. Nearby, you'll find the old city gate.
Continue on to the historic Castillo de San Marcos, which was built by the Spanish to defend Florida and the Atlantic Trade Route. It's the oldest masonry fort of its kind left in the country, offering visitors more than 450 years of history and confluence of cultures.
From the fort, walk about 20 more minutes to the north, where you'll find the old Jail of downtown St. Augustine.
Finally, end your walking adventure at Ponce de Leon's famous Fountain of Youth, a beautiful place to sit down, relax, and enjoy the end of your walking tour of historic downtown St. Augustine!
Of course, there are many more museums and sites to see in downtown St. Augustine than the few we've listed here, but this should at least serve as a good guide to walking historic downtown St. Augustine from south to north. Another way to see the city is to hop on the Old Town Trolley, and enjoy the sights that way.  It's a hop on hop off tour, and a great way to get yourself oriented to the city.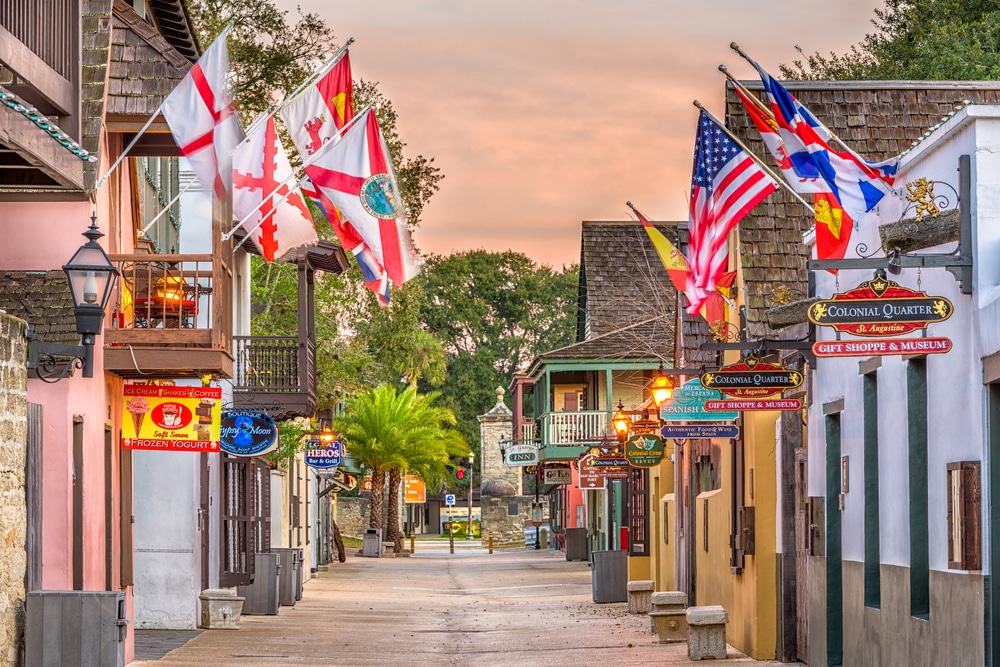 The Best St. Augustine Hotel
After walking the historic streets of downtown St. Augustine, we're betting your feet are tired! There's truly no better place to relax and unwind at the end of a long day than the St. Francis Inn, a stunning hotel in the heart of the historic downtown St. Augustine.
Our guest rooms are comfortable, and offer the perfect blend of old-world charm and modern conveniences, all with unbeatable service and hospitality.  No where else can you enjoy the same access to everything in downtown St. Augustine, while also having free access to the beach (via our beach cottage). Be sure to also check out our sister property, Casa de Suenõs, and intimate St. Augustine Bed and Breakfast.
There's a reason so many people continue to make St. Augustine a relaxing part of their vacations – and it starts and ends with the St. France Inn.  Come stay with us this summer, and let us show you the very best of this incredible city.  Book your room at our St. Augustine hotel today!