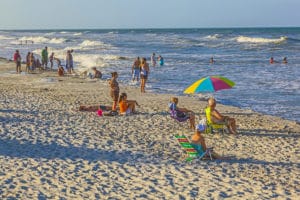 Are you looking for a great list of things to do in St. Augustine? It's a great place to get away no matter the time of year, but perhaps especially so this winter.  The temperature is generally mild in St. Augustine in January and February, with temperatures usually ranging from the mid-60s to mid-70s, and the crowds are far fewer.  While the rest of the country is dealing with snow and generally cold, wintry weather, those of us in St. Augustine are reveling in the sun and enjoying all of the incredible things to do here.
Among the many things to do in St. Augustine this winter, at the top of our list is staying at our luxurious Bed and Breakfast. The St. Francis Inn, located in the beautiful St. Augustine Historic District, offers you a generous helping of old-world charm, mixed with the modern comforts and amenities you crave. Come explore the nation's oldest city with us this winter.  Book your room at the St. Francis Inn in St. Augustine FL.
Our Favorite Things to do in St. Augustine
St. Augustine is a winter paradise. Whether you're coming from Orlando, Daytona, Jacksonville, or some other state entirely, know that once you're here, you'll never run out of things to do in St. Augustine. Whether you want to spend your winter days exploring St. Augustine Beach, golfing, getting to know the Historic District, or visiting the many great attractions in town, there's no shortage of things to do in St. Augustine.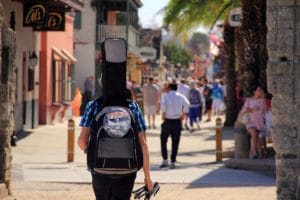 We know people like to build itineraries and plan their trips before they travel. To give you a nudge in the right direction, here is a shortlist of our 12 favorite things to do in St. Augustine in the winter.
Visit the St. Augustine Beach!  St. Augustine is home to some of the most beloved beaches on the east coast, and this winter is a less-crowded and still perfectly delightful time to experience a day at the beach!  Guests staying at the St. Francis Inn, and any of our sister properties, have exclusive access to the St. Augustine Beach itself via Our Beach Cottage. It's one of the many incredible amenities that await at our St. Augustine Bed and Breakfast!
Get reacquainted with your youth at the St. Augustine Fountain of Youth. The Fountain of Youth Archaeological Park is the actual site of the first settlement in America. It was settled 42 years before Jamestown and well- before the Pilgrims arrived at Plymouth Rock. Don't miss your opportunity to drink from Ponce de Leon's Spring of Eternal Hope. The next time you see our owner/innkeeper Joe, ask him just how old he really is.  You might be surprised to hear his answer!
Visit the St. Augustine Alligator Farm.  Talk about experiencing something that is quintessential Florida! There are great animal exhibits to explore as well as a thrilling zipline.
Visit the Castillo San Marcos National Monument, which was built by the Spanish colonists in 1672. It's once afforded the city some protection, and it is the oldest masonry fort in the country.
Meander down St. George Street in St. Augustine's Historic District. It's a pedestrian-only zone filled to the brim with shops, restaurants, and art galleries.  A popular stop on a warm afternoon is The Hyppo, which serves up an incredible variety of fresh, all-natural, handmade popsicles.
Take a ghost tour!  St. Augustine is considered to be one of America's most haunted cities, and there are a number of ghost tours offered around town. Visit famous haunted destinations like the Lighthouse, the Huguenot Cemetery, the Old Prison and the Tolomato Catholic Cemetery. The Ghosts and Gravestones tour is the one we recommend the most often. We even have our own friendly ghost at the St. Francis Inn!
Golfers, don't miss your chance to head to the World Golf Hall of Fame, and maybe even take in a few holes of your own on any number of St. Augustine Golf Courses.
Take some time to relax this winter, and head to the San Sebastian Winery. It's located just a few blocks from historic downtown St. Augustine. We also serve their delicious wines during our complimentary evening social hour, which takes place daily from 5 – 6 pm. Another great place to go for tastings is the St. Augustine Distillery.
Nature lovers will want to head to Anastasia State Park for a relaxing afternoon. The park features 1600 acres of pristine white-sand beaches, tidal marshes, and maritime hammocks. It's the perfect place to go birdwatching or kayaking.
Relax poolside in our heated pool at our luxurious St. Augustine Bed and Breakfast. Our private, walled courtyard is a peaceful place to relax with a good book and unwind after a long day of sightseeing around St. Augustine.
Head out to St. Augustine's Lighthouse and Maritime Museum. It's a stunning and historic reminder of St. Augustine's past, and our Owner/Innkeeper, Joe, sits on the board of this organization.
Visit the Oldest House Museum, owned and operated by the St. Augustine Historical Society, is a great place to get a glimpse at what life in St. Augustine used to be like. It even includes a tour of a colonial kitchen!
The Best St. Augustine Bed and Breakfast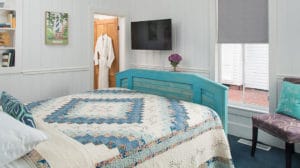 By now, there should be little doubt in your mind why you should visit us in St. Augustine this winter.  There are so many things to do in St. Augustine, and just as many ways to relax!  Our Bed and Breakfast is unbelievably comfortable, and the perfect home-base from which to explore this delightfully old town.  Each guest room features private baths, antiques or reproduction furniture, central heat and air-conditioning, and queen or king beds. Many of them also have fireplaces and spacious whirlpool tubs.
On each morning of your stay at the St. Francis Inn Bed and Breakfast, you'll enjoy a delicious, gourmet breakfast buffet that tastes as tantalizing as it smells. It's the perfect way to start your day in St. Augustine. From there, what you do is up to you. Our Innkeepers are happy to offer personalized recommendations and help you plan a days' worth adventures. Be sure to also check out Casa de Suenos, our sister property. Book your room at our St. Augustine Bed and Breakfast today!