Saint Augustine, our Nation's Oldest City…
The St. Francis Inn is unique in location -- right in the heart of the oldest part of St. Augustine, a designated Historic District. The narrow brick paved streets offer scores of charming restaurants, museums, galleries, antiques, historic sites, a variety of shopping experiences and lovely private residences... all easily within walking distance of the Inn. St. Augustine is a rich cultural center, with special events held in the old city throughout the year. A stroll through the oldest city's historic district, along the narrow ancient streets around the Inn, is not to be missed. Let us tell you more.
St. Francis Inn is ideally located on St. George Street which runs through the center of the Old City, and dates back to the earliest days in the City's history of European settlement. As you walk toward the Old City Gates at the north end of St. George Street, you'll discover 11 blocks restricted to pedestrian-only traffic. You can easily stroll along the promenade, lined with palm trees and benches, day or night. The pedestrian area is lined by original, restored, and reconstructed 18th century homes which are now historic landmarks, museums, a multitude of unique shops, snack spots, and excellent restaurants. Explore other nearby streets and tiny side alleys too and discover al fresco dining, arbors covered with flowering jasmine, small artsy shops, fun pubs, and unexpected treasures.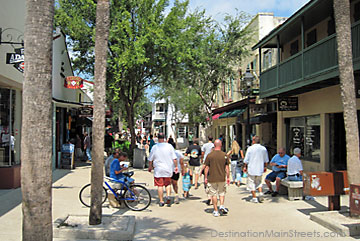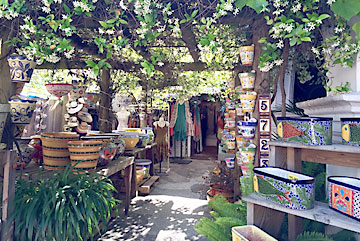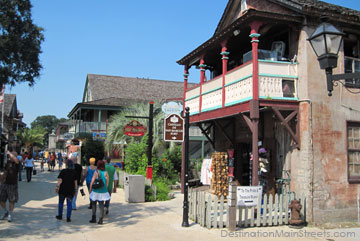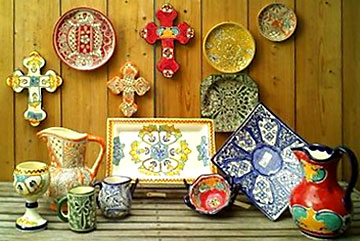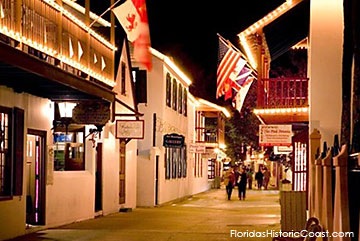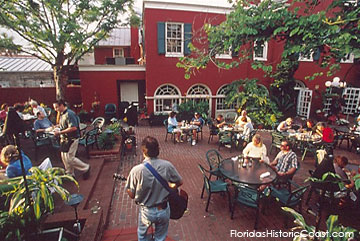 St. Augustine was founded forty-two years before the English colony at Jamestown, Virginia, and fifty-five years before the Pilgrims landed on Plymouth Rock in Massachusetts - making it the oldest permanent European settlement on the North American continent. St. Augustine's Historic District is a National Historic Landmark, encompassing 144 blocks along the Matanzas River Bayfront, much of which was once within Spanish walls for protection. The size and scope of the city's Historic District is amazing. Laid out according to the Spanish town plan in the late 16th century, the narrow streets and central plaza - "The Plaza de la Constitucion" - are vestiges of St. Augustine's early heritage. Many colonial buildings in the District date from 1703 to 1821. The boundaries of the Historic District are Orange Street (on the North), San Marcos Street and the Matanzas River Bayfront (on the East), St. Francis Street (on the South) and Cordova Street (on the West). Explore these narrow brick-lined streets and see many old structures which were built of the locally quarried coquina stone, many which are more than 200 years old. A massive community restoration project was initiated during the 1970s and resulted in bringing the cultural history of the city back to life. Visit Castillo de San Marcos (1695), the nation's oldest and only remaining 17th century stone fort, a National Historic Monument which you can tour inside and out. There are guided tours around all sorts of themes - culinary, art, historical, haunted, nature, tastings, chocolate, pirates, cemeteries, ecological, sailing, and more. Horse-drawn carriage rides around the Old City provide a unique way to absorb the stories of yesteryear, evening ghost tours delight you with their tales, step-on-and-off trolleys bring you to landmarks and special locations, and harbor cruises and sails provide other perspectives of this beautiful ancient city. Our Innkeepers can provide more specific information during your stay.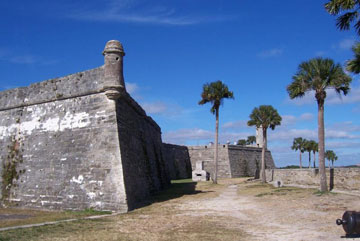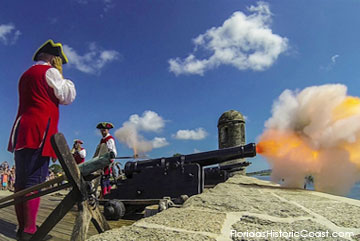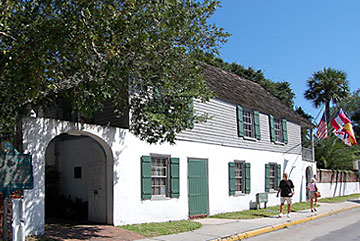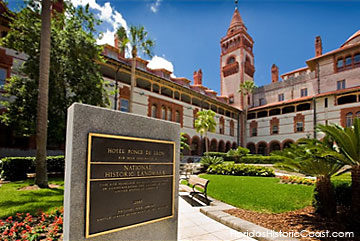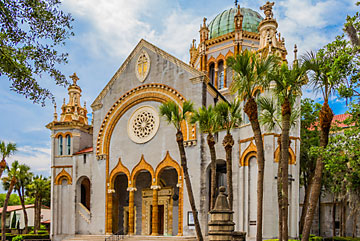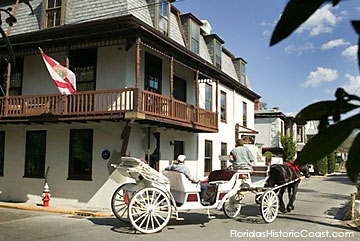 As the oldest permanent city in what is now continental United States, St. Augustine offers an astounding variety of things to do and see. From Spanish colony to British rule to statehood, St. Augustine's long history and varied cultural influences are evident in its streets and buildings. Within the Old City and just on its outskirts are many sites and happenings for visitors: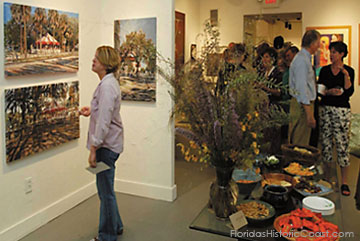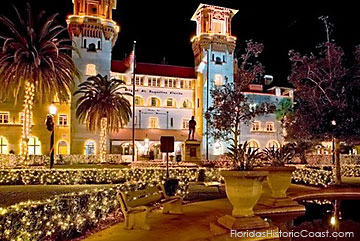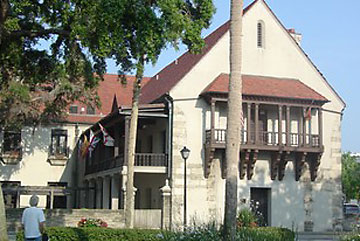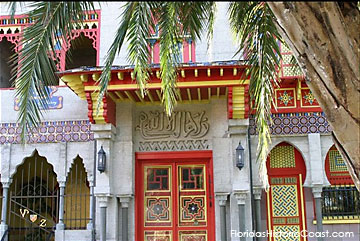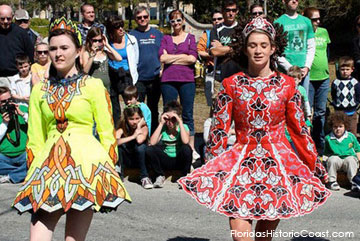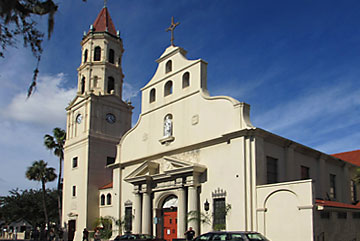 The city's calendar is packed year-round with festivals, religious pageants, historic re-enactments, ethnic heritage events, and celebrations of history and culture. Seasonal events such as Nights of Lights, which bathes the Old City with sparkling white holiday lights, Easter celebrations, spectacular Fourth of July fireworks over the bayfront, and New Years parties are great fun. Enjoy arts and craft fairs, seafood festivals, colonial celebrations, concerts, music festivals, food events, native American ceremonies, historic weapons demonstrations, and torchlight parades.
For an up-to-date calendar of events, including Festivals, Living History, Visual Arts, Performing Arts, Literary Arts, Cultural Events, Classes, and much more, visit Historic Coast Culture and Old City Calendar.
Reminder, guests of the Inn receive a 50% discount on admission to the nearby Oldest House - one of St. Augustine's finest treasures of local history, just a block down St. Francis Street from the Inn. Our guests also receive complimentary admission to the St. Augustine Lighthouse and Museum. At both of these historic landmarks, our guests also receive discounts on purchases in the gift shops. See our Guest Amenities for details on the many perks, activities and benefits that add up to a superb value for our guests!
Outside the Old City area are other many historic sites, attractions, events, and places to visit, such as
Anastasia Island
This large barrier island is just across the Bridge of Lions over the Matanzas River from the historic Old City of St. Augustine. Its eastern shore is home to 1600-acre Anastasia State Park (with 4 miles of pristine beach) plus 14 miles of wide sandy public beach, gentle waves, a maritime hammock, and dunes of sea oats waving in the breeze. The beach is perfect for sunning, beachcombing, biking, and sand castle building. Watersports abound, including swimming, fishing, surfing, kayaking, sailing, windsurfing, boating, paddleboards, and more. Rentals are available on the island. Watch shorebirds galore, hunt for seashells, and keep your eyes posted for passing schools of bottlenose dolphins and migrating right whales. Anastasia is also home to the 165-ft. black-and-white striped St. Augustine Lighthouse & Museum, the public Beach Fishing Pier with Volleyball Courts and Wednesday Farmer's Market. Also nearby are Fort Matanzas National Monument, Fiesta Falls miniature golf, the St. Augustine Alligator Farm and Zoological Park, Marsh Creek Country Club, many interesting shops, restaurants, and special events. St. Augustine Amphitheater is a state-of-the-art performing arts venue for audiences of 4000+. It plays host to the Saturday morning Old City Farmer's Market, plus a year-round schedule of concerts, fairs, festivals and other cultural events. From A Street and Ocean Trace Road you can drive and park on the beach (fee required). There are 2 public tennis courts and a dog park at Ron Parker Park on Anastasia Island.
If all this still leaves you looking for things to do, we also have boating, fishing, golf, tennis, watersports, horseback riding, helicopter tours, state gardens, trolley tours, walking tours, carriage tours, trail hikes, sailing tours, scenic cruises, bird watching, nature preserves, biplane rides, eco-tours, mini golf, wine and spirit tastings, festivals, re-enactments, weapons demonstrations, parades, farmers markets, flea markets, ballet, fireworks, concerts, lectures, cultural events, and more!