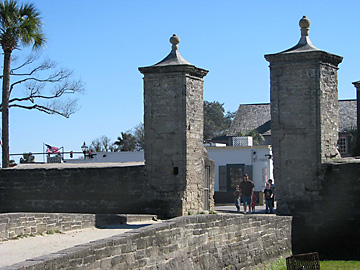 The Old City Gates can be viewed at the north end of St. George Street, leading into the heart of the old city. The Spanish colonial settlers of San Agustin began to fortify their city with a wall nearly 150 years after being settled in 1565, after numerous attacks over the years. A siege in late 1702 by a large English force sacked the city while nearly 1500 Spanish residents took refuge in the Castillo de San Marcos, which the Spanish governor and commander Joseph de Zuniga y Zerda and stocked with food, supplies, and equipment. The English army was held off from the fort for 52 days, until relief forces arrived in the form of four Spanish men-of-war from Havana, Cuba. James Moore and his British troops devastated the city but failed to take the Castillo. Reacting to this siege, the Spanish began constructing a strong earthen wall backed by palmetto logs, called the Cubo line, in 1704, to better protect the city and the Castillo.
The Cubo line began with the Castillo de San Marcos as its eastern anchor. (A section of the old town wall has been reconstructed on the Castillo grounds). The wall extended as the city's north boundary, outwards from the Castillo de San Marcos, heading west to the San Sebastian River, and was completed in 1705. The coquina stone main entry gates to the city, now called the Old City Gates, still stand as evidence to these protecting walls. A second wall, called the Rosario line, ran south along the west side of the city, then turned back east to the bay. The Rosaria line did not have timber supports, just an earthen berm with spiny plant called Spanish bayonet.
The earthworks and palm logs construction Of the Cubo line deteriorated over time, requiring repair and reconstruction during the 100 years that they protected the city, with major construction projects in the 1730s and in 1808. The Old City Gates were constructed during the last reconstruction of the Cubo line, in 1808. The walls were effective, since the city was never again conquered. Oglethorpe's English forces were unable to break through the powerful defenses in their attack on St. Augustine in 1740, and the war parties during the Second Seminole War, 1835-1842, did not advance any closer to the city than the Cubo line. Many sections have been excavated by St. Augustine's Archaelogy Division, and the Santo Domingo Redoubt has been reconstructed at the corner of Orange and Cordova Streets.