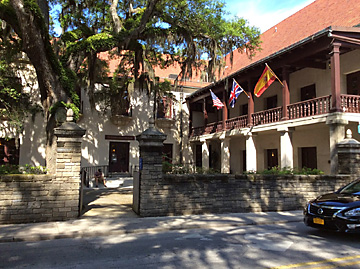 Facing the Spanish Plaza de la Constitucion at its west end, the Government House was constructed from 1706-1713, serving as home to the Spanish governor and capital of the Florida colony. Over the centuries, the building has served many purposes - among them a courthouse, customs house, post office, offices for the US Department of Agriculture. Today it houses a museum gallery, with exhibits highlighting its rich history and prominent location and can be viewed for free. An exhibition "First Colony: Our Spanish Origins" is open to the public, with an admission fee.
The St. Augustine Garrison holds a Changing of the Guard in front of Government House on the last Saturday of the month, weather and schedules permitting. This is preceded by a short presentation on the Garrison and its mission and some interpretation of 1740 life in St. Augustine. Following the Change of the Guard, the Garrison marches back to the Taberna Del Caballo on St. George Street and the public is invited to follow and ask questions.
The Government House is owned by the State of Florida and managed by the University of Florida, located at 48 King Street in St. Augustine, FL.